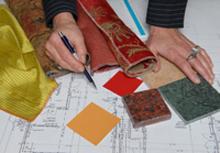 Oftentimes, we look around our rooms and think about changes we'd love to make but we either don't know how to do them or we don't know if what we want can even be achieved. So, in an effort to help you do what you want, I'm here to answer your questions! Let's look at some of your inquiries already submitted:
Question: Will painting/staining hardwood floors a darker hue warm up a room? — Gina
Answer: A darker stained floor most definitely adds warmth to the room. Unstained, natural-colored hardwood floors are beautiful but oftentimes they go unnoticed. Lack of maintenance doesn't add value to the room either.
The floor or base of the room in a darker tone adds a special kind of feeling; one difficult to achieve in any other way. It's psychological, but undeniable.
A dark ground and solid "base" not only exudes warmth throughout the room, it also allows for a sharper contrast against the trim and wall colors. Imagine a room with a natural oak floor accompanied with almond colored walls versus a room with ebony stained floors and almond walls. Now add white trim. Not bad, right?
Also keep in mind there is no such thing as a floor being too dark. The floor takes up one quarter of the entire space; you have plenty of other items in the room to keep the space from drowning.
Question: When decorating a room do you always need a focal point? — Megan
Answer: Without a doubt! Approach decorating a room like you would approach "decorating yourself," i.e., getting dressed. If you put on a cute black dress with tall, flat-healed boots, then for accent you'll need extra large hoop earrings, a great, long necklace or a fun handbag to add a punch. If not, your eye won't have anything to focus on.
Designing a room with a focal point in mind adds interest to the room — an anchor, if you will. The most difficult room in which to create an interesting focal point is the kitchen. But, with the current trends to disguise appliances beneath cabinet panels or sliding doors, an interesting stone countertop can take precedence. Other rooms are a bit simpler or are dictated by what the room is used for. As you would suspect, most family rooms have no choice but to allow the fireplace and/or a wall-hung plasma to be the focal point.
Keep in mind it's not always the size dictating the focal point. It's what you do to either enhance or hide the items that define it.
Question: What should I do with gifts from family or friends that don't fit my style? — Johnna
Answer: I have three options for you:
a) If you can (kind of) bare it, try to display it seasonally to change things up a bit. Even if it's not something you would have purchased you may like to try it as a new temporary accessory — at least while the gift giver is visiting.
b) Try to exchange it for something similar in style or function. When the family member comes over you can point out the fact you exchanged it, still giving them the feeling it is "from" them.
c) If you absolutely cannot stand it, re-gift but not as a "real" gift. Take it as a "love gift" to a friend when you meet them for coffee, assuming it is her style.
Question: How do you start the transition of changing a theme for a room? — Lauren
Answer: By theme, I'm assuming you mean a child's themed room? You can definitely transition themes over time. Say you have a transportation theme for your son's room. First, you'll want to assess the items defining this idea.
Make a list of the specific themed details, such as the closet knobs in a train shape, sheets printed with cars, a ceiling light fan with planes or wallpaper border with a street scene. As the child grows up, you can continue to decide how you want to transform the once-themed room. When selecting new items consider replacing the children's items with more expensive or affixed ones in an interesting yet neutral style. Most likely you can keep the basics and simply change out the youthful items.
Question: What type of window treatment do you suggest for large windows that get a lot of light? — Allison
Answer: Because of the variety of options, window treatments can be very tricky. First, be specific with your needs. Ask yourself exactly what it is you want to achieve: Is it privacy from the neighbors walking along the sidewalk? Do you need hotel-like darkness in the morning? Is it sun protection for your floors and furnishings? Do you want to protect from heat loss or gain during the changing seasons? Try to get as detailed as possible to help narrow your choices.
You should also ask yourself if you want light to filter through, or if you want complete privacy. Can the choice you make be even better by adding a slim roller shade behind the main treatment? Layering, although expensive, gives you all types of flexibility.
Consider other upgrades such as (my favorite) a top-down, bottom-up mechanism allowing you to pull up or drop down the treatment. This feature allows you to control the light exactly how you want it throughout the day.
When you shop, don't forget to consider the operation of the windows! Often times, people make selections because of the specific color available in a particular line or price range, ignoring the daily window operation. Don't make this mistake. If you do have a price range, look for a better deal or wait a few more months to save more money. You can, in the meantime, purchase temporary pleated shaded for a few dollars at your local hardware store.
Please send your questions to thesavvygal@thesavvygal.com. Visit Helen's Web site at www.babilladesigns.com. Helen is a certified interior designer based in Chicago, IL. She contributes to the TheSavvyGal.com once a month and is ready to help you design.