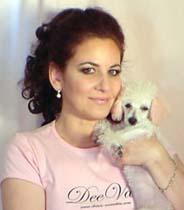 Does the world need another cosmetics company? Deirdre Mahon, a licensed cosmetician and professional makeup artist, believed so and fulfilled her entrepreneurial spirit by establishing Cruelty-Free and State-of-the-Art DeeVa Cosmetics, with a percentage of the company's profits toward helping animals in need.
Separated after 23 years and rebuilding her life at age 48, Deirdre took her personal savings and her experience to start her own company.
However, in the spirit of "doing what you love," she also asked, "how may I serve." Thus, DeeVa Cosmetics does more than make women look and feel great, the company is also involved in animal rescue.
"I would love to have an animal sanctuary one day, where the once sad and suffering will find love and joy for the remainder of their days," she said. "Someone once said, 'The purpose of life is to stand for something, to have made a difference.' My purpose is to help animals."
Deirdre's mission, of course, (because it is a cosmetics company) also includes providing women of all ages a no-pressure, fun experience of empowering themselves by feeling great about how they look.
"Over the years as a makeup artist doing weddings, proms and giving lessons, I knew I could offer women the same quality skincare and cosmetics for less than the more expensive name brands in department stores," Deirdre said.
Known for her easy glamour style, Deirdre believes makeup isn't rocket science and should be fun, not just functional.
"All women should enjoy their femininity and embrace being a woman, and a bit of personality should show through their makeup," Deirdre said. "Women are so busy doing for and helping others that most of the time they neglect themselves. I love seeing the women look in the mirror and find the lost DeeVa within."
As a makeup artist, Deirdre finds this to be one of the most rewarding experiences, and it was the reason she began doing makeup in the first place — to help others see their own beauty, inside and out.
"Some say makeup is just a fa‡ade and that cosmetics affect only the surface," Deirdre said. "For some this may be true but I feel that any road that leads you to a better understanding of yourself is a road worth taking. I like to say 'I don't specialize in cosmetics; I specialize in confidence.' Although, I am very accomplished in age-appropriate makeup and career looks, I am known for the sexy, sultry, smokey eyed glamour look that is so popular today."
Deirdre's driving force for her company is her belief in social entrepreneurship — doing socially responsible work to advance a cause or purpose. Deirdre said consumers should do a little more research on the companies they buy from and make sure they are trying to make the world a better place.
"The consumer has more power than they realize. Make a decision to only purchase from companies that want to help make a difference, and not just profit from your purchase," she said before quoting Margaret Mead: "'Never doubt that a small group of thoughtful, committed citizens can change the world. Indeed, it's the only thing that ever does.'"
She continued to say that it takes people to do something to make this world a better place. "They can start by getting behind good causes with their purchases. There is so much being offered to consumers out there — so many companies competing for your dollars."
Deirdre believes that no one can do everything but everyone can do something. "For decades, cosmetic companies have used animals to make women beautiful — now, women can give something back to the animals."
This savvy gal has been to New Orleans twice to help feed and rescue animals. She has several rescued cats of her own, and the most recent addition to her family is a rescued miniature poodle she named DeeVa, who serves as the company's mascot.
DeeVa can often be seen prancing joyfully throughout Millburn with her trademark pink ears, happy to meet and greet all who pass her way.
"She's the sweetest dog and every day I look into her beautiful eyes so grateful that she is in my life," Deirdre said. "She's a constant reminder to me that I have much work to do in raising awareness of the so many homeless and abused animals, not only in this country but around the world. Being born of the human race instead of the animal kingdom does not give you more rights. It gives you more responsibilities."
To see more photos of Miss DeeVa, read her 10 DeeVa Lifestyle tips, learn more about the company, products and services offered, and to find out how you can help the animals, visit deevacosmetics.com or call 908.247.0244.