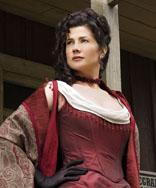 With so many dramatic roles to her credit, you may not guess that Daphne Zuniga is one of the most down-to-earth, fun-loving actresses in Hollywood. But this month, Daphne devotees will get to see her high-spirited side when she stars in Hallmark Channel's original movie premiere, "Mail Order Bride," a story of the divisiveness of deceit and the liberating power of truth.
Daphne became a familiar face around the world when she appeared for four years as Jo Beth Reynolds on the hit series "Melrose Place," although she had been busy acting since the early eighties in a number of films such as "Spaceballs," "A Sure Thing" and "Gross Anatomy," among other cult classics. Her television credits include the highly rated NBC miniseries' "Pandora's Clock" and "Degree of Guilt," both based on best- selling novels, and guest spots on "Spin City," "Stark Raving Mad," "Eve" and "Law and Order." Daphne recently starred in the ABC Family Channel's series "Beautiful People" as well as "One Tree Hill" and will guest star on the critically acclaimed "Nip/Tuck."
Of the Hallmark movie, set in the 1880s, Daphne told TheSavvyGal.com that her role as Diana McQueen was an eye-opening experience. McQueen is a con woman who flees from her handler, then poses as her recently deceased friend in order to marry a man neither woman has ever met. But Diana's lies begin to unravel when her new "fiance," becomes suspicious and her former captor comes back to reclaim her.
As she immersed herself in the role, she was able to grasp the reality that women were truly just considered the possession of men. "There were just a few women who were forward thinking and took chances like Diana," the actress explained. "She was an adventurer and didn't live the way she was expected to at that time."
Daphne also noted how her 1880s period attire made her realize the additional suppression women had to endure at that time. "I wore a petticoat, sometimes two," she said. "And then there are the corsets, stockings and lace-up boots. No zippers; and layers upon layers over undergarments." Daphne tolerated the discomfort because it helped her become her character. "There's no faking it when you're working on a Western. You get in that big old dress and you get out in the open country with the horses and it takes you out of your head and sends you into a different era."
Daphne considered Diana in "Mail Order Bride" to be the best female character she has ever seen in the pages of a Western movie script. "Women are under-represented in Westerns anyway," she explained. "So playing one who was so adventuresome and courageous was an absolute joy for me."
"Acting, in its purest form, is a noble craft," she said. "People create stories with the intent to let an audience experience humanity. Enjoying the characters sheds a light on a different experience of being human to the viewer." Daphne said she strives to be objective with every role she takes on so as not to impose "Daphne" into it and completely absorb herself into her character.
In addition to her work on "Mail Order Bride," Daphne can be seen in a documentary co-created with Chris Anderson called "ConnecTED," about the TED convention, an annual conference held in Monterey, Calif. that attracts the world's most fascinating thinkers and doers. The busy actress is also producing an upcoming Hallmark movie in which she also stars.
When not acting, Daphne is an activist, involved with a variety of charities and environment programs. She's currently involved with the group "Environmental Justice," serving poor people who suffer with asthma in places where the disease has risen to epidemic levels. She divides her time between Los Angeles and New York.
"Mail Order Bride" airs Saturday, November 8th (9:00 / 8:00 c) on the Hallmark Channel.