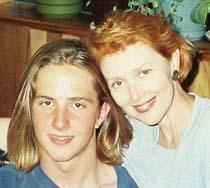 There are times when a mom must work and there are times when no force should separate her from her child. Tragically, finances can separate a single mom from being at the bedside of her catastrophically ill or dying child.
Valerie Sobel works 24/7 so other moms don't have to make an impossible choice: stay at work to keep their income or take leave/quit in order to comfort their seriously ill son or daughter.
The Andre Sobel River of Life (ASRL) Foundation, named for Sobel's cherished son who died of a brain tumor in 1995, pays urgent expenses — rent, mortgage, utilities, food, gas and other household necessities — so that single moms can focus on caregiving, not on finances.
When Sobel lost Andre at age 19 to an inoperable brain tumor in 1995, the ordeal also cost her husband's life to suicide and made Ms. Sobel realize many things that in her words, "there is no other way to learn."
She began to question, how could she have managed without the financial and emotional support available to her?
What would her son's illness have been like had she been a single parent? How do single caregivers possibly cope?
"Experiencing the sudden onset of a life-threatening illness of a child devastates every family, but for the single mother or father without financial resources, it is unimaginable," observed Ms. Sobel.
Sobel's conjecture that there existed a silent population of single parent caregivers has solidified from theory into hard data during the nine years of ASRL's unique work. Sobel provided the seed funding to launch this 501c3 nonprofit, and refined an innovative business model that ensures an immediate response to families' urgent needs.
The mission of Sobel's work is "when compassion can't wait and single parent families are in despair, we pay urgent expenses so these caregivers can stay by the bedside of their catastrophically ill child."
Sobel's ASRL Foundation is the only resource of its kind. Assistance is provided within 24 hours of a request without red tape or bureaucracy. ASRL partners with 12 leading pediatric hospitals nationwide, empowering social workers to identify urgent cases and refer them for swift assistance. Since 2000, ASRL has provided nearly $4 million in assistance to 2,600 families/9,300 family members.
Sobel shared this story about a boy named Antonio:
Antonio was a nine-year-old boy with a high-risk form of leukemia. When he suffered a relapse of the cancer, his single mother needed to be at his side in the hospital and while he recovered between treatments. Mom had five other children and worked as a cook in a restaurant, a good set up, as her employer allowed her to bring Antonio to work with her when his immune system was strong and healthy enough for him to be in a public place. When Mom's work hours were cut back and she had trouble meeting her financial obligations, she did not want to find a new job as her flexible work situation allowed her to both work and care for her sick child. After aid from other cancer organizations had been exhausted, the social worker applied to the ASRL program for support. In 24 hours, The Andre Sobel River of Life Foundation provided $1,100 toward rent, utilities, grocery and gas assistance to allow Mom to care for Antonio during his treatments while applying her $200/week paycheck to other family expenses.
Sobel's work has helped every description of family, but nearly 70 percent of households are headed by single mothers. "This invisible community has few emotional or financial resources, and little to no support," Sobel said.
As she believes that "our society is only as humane as its treatment of those so diminished by crisis that they cannot speak for themselves," Sobel has led ASRL to become the primary advocate for the population of single parents with catastrophically ill children. To address the plight of the single caregiver, Sobel convened a national Think Tank at the National Institutes of Health of 24 leading medical and social workers to investigate the impact on single parents and their families who are struggling to care for severely ill children. This group is now conducting a multi-hospital research project to shine a spotlight on the severe challenges and economic hardships that single parents face in caring for terminally and catastrophically ill children.
With recent massive state budget cuts to health care in California (over $2 billion in cuts to health care in 2009-10), the price of health care and challenges to accessing it are greater than ever before for fragile families like Antonio's.
The Andre Sobel River of Life Foundation receives urgent cries for assistance every day from hospital social workers on behalf of these despairing families. You can help ASRL soften their crisis – and allow the parent focus on the child's healing — by making a tax-deductible contribution today at the Andre Sobel River of Life Foundation website: www.andreriveroflife.org