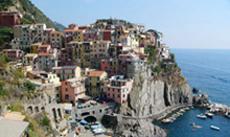 You step off the train and at first see only the gray interior of the station. But luckily, as you turn the corner, the gray fades away into a storybook scene — pastel-colored houses, grapevines, bright lemons hanging from trees, the Mediterranean Sea splashing gently against the shore.
You already can't believe your eyes –and then you notice the castle. This, you think, is Italy at its best. And perhaps it's true — you're in Cinque Terre.
This Italian destination is a popular tourist getaway for busy travelers looking for a little relaxation. And with good reason — the weather is typically mild (the temperatures are highest in the summer, generally reaching no more than 85 degrees fahrenheit), the scenery is spectacular and the food and wine come straight from local farms and vineyards.
Located in eastern Liguria, the region of Italy stretching west along the coast, Cinque Terre is most accessible by train via the Ventimiglia-Genoa-Rome line, but can be reached by car as well. But how you get there isn't that important — what matters is you're prepared to spend a weekend (or perhaps even longer) enjoying the beauty surrounding you.
Cinque Terre, which translates into "five lands," is actually made up of — you guessed it — five villages. Traveling to Cinque Terre from the west, the first village you come to is Monterosso al Mare. The majority of hotels found in Cinque Terre are located here, so it's no surprise many travelers choose to stay in Monterosso and explore the other 4 villages during the day.
The area of Cinque Terre is primarily known for its natural beauty, therefore, the nightlife here is somewhat limited. Most travelers choose to spend their evenings relaxing and enjoying the sounds of the sea — but this doesn't mean there aren't more activities available.
Monterrosso is host to restaurants, bars and shops. All you need to do is look around or ask one of the locals — they're usually friendly and eager to recommend their favorite spot.
On a side note, Monterosso is home to the only stretch of accessible beach in all of Cinque Terre, so it would be a good idea to spend some time sunbathing here during the day before moving on to the next village.
Thankfully, the next village over does not disappoint either. In fact, Vernazza — perhaps even more than the others — appears to come straight out of a fairytale. The houses here are not only pastel-colored, but are nestled together in such an unusual way, many of them even clinging to edge of the cliff, so as to make Vernazza particularly quaint and picturesque.
The piece of land making up Vernazza is actually reminiscent of Italy itself — a boot-shaped stretch jutting juts out toward the sea (tip: the castle is located at the end of this boot). Vernazza is also a great place to stay if you want a more intimate feeling since most of the rooms available are not hotels but single rooms rented out by locals.
However, it can also be one of the busier tourist areas, especially in the summer, so you might want to consider this before booking a room.
The last 3 villages — Corniglia, Manarola and Riomaggiore — are not as popular and thus do not have as many rooms for rent. For this very reason, if you want to get away from the more touristy areas and can find a room in one of these villages, it may be a worth your while to take the opportunity (tip: Corniglia is probably your best bet for this).
These villages may have less to do, but they still have plenty of their own charm and are definitely worth exploring.
The beauty of Cinque Terre is the great food, wine, beauty and plenty of well-preserved hiking trails — but if you want, your time here can be spent doing nothing else but relaxing by the beach. And, in a world so full of stress, this fact alone makes Cinque Terre a traveler's dream.
Helpful Hints:
Here are some other hints for your stay in Cinque Terre: Hotel Pasquale, found on the main street of Monterosso, is small, but with a view of the Mediterranean and the convenience of being just a few steps from the beach, it's a great place to set up camp.
For a romantic dinner, hike up to Franco's Ristorante La Torre, located on the trail to Corniglia and above Vernazza. Here, you can spend the evening sipping wine and watching the sun set over the Mediterranean. Try the pesto! This area is known as the birthplace of pesto sauce. (Taste it while you're in Cinque Terre, but also make sure to stop by one of the small grocery stores and buy some to take home. You won't regret it!)
If you don't already have one, you can buy a ticket at the train station to hop the train to connect to each of the villages. You can get from village to village this way in a matter of minutes.
Looking for an even better way to get from village to village? Go hiking! Hiking trails connect each of the villages. Some are more difficult than others — for more of a workout, try the 90-minute trail connecting Vernazza and Monterosso. Looking for something a little easier? The trail connecting Manarola and Riomaggiore is only about 20 minutes and is known as the Via del Amore (Lover's Walk). Note: Cinque Terre is being preserved by the UNESCO World Heritage List, so make sure to still buy a pass before you go hiking.
If possible, the best time to visit Cinque Terre is in spring when it's somewhat warm but not yet crowded with tourists. So plan your spring vacations now …
Most importantly, leave your stress and worry at home. Cinque Terre is the perfect place to set aside your troubles to spend the days enjoying what life has to offer!