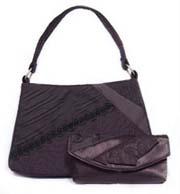 We've featured the cool Web site UptownLiz, created by Ramona Russell, previously … so we couldn't go the month of October (i.e., Breast Cancer Awareness Month) without showing you a few of the chic items you can find there while supporting the cause.
"The Liz Collection" was recently introduced — – handbags supporting breast cancer charities — designed by a young sister team in Sacramento, CA. Two of the bags were seen on the red carpet of the 2008 Emmy Awards.
Cute style, the bags are black with pink lining, and are accompanied by an inspirational quote inside each bag. You can also have the charm, which is attached to the bags, hand stamped with the name of a loved one or word of significance.
Kristin Morrow and Lyndi Eimerl are the sister-duo and stylists behind Fuffy J. Couture, launched in September 2006, who also launched these bags as part of the Just BeCAUSE Bags two years later.
The idea came after their godmother lost her battle with cancer in July 2008, only three months after being diagnosed. This difficult loss caused them to reflect on their lives and they wanted to impact lives in a positive way while pursuing their passion for art and fashion.
The Just BeCAUSE line of handbags is this designing duo's way of giving back and offering women across the globe sophistication, sentiment, support and most importantly, hope. And it is perfect match with Uptown Liz.
The "Liz" Collection can be found at Uptown Liz and retails for $125-165.