Buying a Sofa: Proportion, Size and Balance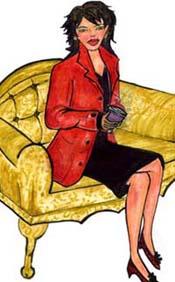 Ready to update that room in your home but don't know where to start? Are you afraid to make a $10,000 mistake? Feeling overwhelmed? Many people work with interior designers, but if you're brave enough to do it on your own, or until you find the designer that you click with, here are some tips on what you need to do before you shop for new furniture — particularly a sofa.
One of the first things a designer will do is to interview you to find out why you want to renovate the room. Ask yourself what are your needs, desires and goals for that particular room. For our purposes here, let's assess your family room:
Do you want to create a cozy, informal relaxing space to put your feet up and watch TV? Then, consider a comfy sofa or sectional with a chaise or upholstered ottoman to use in lieu of a cocktail table.
How many people would you like to seat? Think about everyone in the family, and when you may have company over, and determine how many people will fit in your room. Decide if you'd like a couch and loveseat, or a sectional. You may think a sectional will seat more when in fact you may accommodate less (corners are great to cuddle in, but aren't typically useful when company needs to sit comfortably).
What is your main activity in that room? Do you hang out and watch TV, informally entertain or do kids need space to do their homework? Do you and your significant other each need a place to recline your feet? Do the people who reside there prefer a soft, cushy sofa or a firm recliner? Questions like these will dictate the type and amount of furniture you would like. (Whether it will fit or not is another question, of course.)
As you set off to shop for the piece(s) that you decide would "make the room," remember that shopping at various stores can be tricky. Store ceiling heights, upholstery patterns, colors and lighting may effect the perception of the size of furniture. What may look good size-wise in the store may in actuality be too big or too small in your home. Therefore, grab paper, pencil and a measuring tape and get ready to draw! Don't be intimidated; it is not as hard as you may think.
You don't need perfectly straight lines. Simple colored double lines that represent the thickness of the wall is all you need. Measure the length of the wall and transpose that onto paper using 1/4″ to 1 foot scale. Draw the lines to represent the length of the wall. When you get to a doorway, pick up the pencil, leave the proper opening then start drawing again. When you get to a window, just don't color in that part of the wall. This pseudo floor plan will help the store representative assist you when selecting furniture.
The next step is to measure. (If you haven't already, invest in a good quality 25-foot metal measuring tape. Yardsticks and fabric tape measures that you have lying around the house won't work as well.) Stand in the room that you plan to redecorate or redesign. Take a good long look around. Let's say that you want to replace your existing sofa and loveseat with a sectional. Try to visualize that sectional in various locations in the room. Just because your existing furniture has been in the same place for years may not mean it's the best placement. Determine if repositioning furniture will make the room bigger, smaller; what will face a TV, patio, kitchen or fireplace? Will there be sufficient space to walk? Traffic patterns, windows and, nowadays, a wall large enough to house a flat screen will dictate the furniture layout or space plan. With measuring tape in hand, see how long, deep and wide the sectional can be. To further help, temporarily move your existing furniture. Cut out newspaper to fit the size of the preferred sofa and lay it in the location you prefer. Although it won't give you an idea of the mass, it will give you confidence that you will have enough room to walk around it. Once you have decided on the size that works for your function and space, write it down! Write down the maximum and minimum you are willing to go. Use them as a reference when shopping.
Then, consider the balance of the sectional in comparison to the rest of the furniture of the room. When looking at existing or (potential) new coordinating pieces, ask yourself a few questions: is the cocktail table big enough to accommodate persons sitting down or will it appear dwarfed? Since the sectional is typically the largest piece in the room, many make the mistake of buying a table that may be too "blocky," heavy or big. Look for a table that will balance the style, size and personality of the new sofa.
And, finally, don't compromise on finding the perfect piece. If you become tired of shopping (that was hard for me to say) take a few weekends off. If your significant other would rather watch a game on TV than shop, narrow down the search and only take him after you have narrowed down the search. And, feel confident about your decision; trust your instinct when selecting a color and hang tight until the new piece arrives. It really can be that easy!
If you have questions regarding purchases you just can't pull the trigger on — or you have suggestions on future articles, feel free to fill out a comment card below or email us at TheSavvyGal@TheSavvyGal.com
Helen Babilla is a certified Interior Designer out of Chicago, IL; www.babilladesigns.com. She will be contributing to TheSavvyGal.com once a month and is ready to answer your decorating questions.