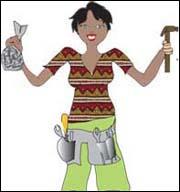 Spring and summer's lovely days are a great time to hit the flea markets and comb the neighborhood garage sales for bargain treasures. A bargain is a bargain, right? Not always so! The hidden costs behind your potential treasure-bargain could be more than you were counting on.
Let's say you have your eye out for a vintage mid-century Heywood-Wakefield dresser, and you've found two contenders …
Contender A.) A $200 dresser at a consignment shop that has definitely seen better days: The finish is peeling and cracked with obvious scratches and dings … you could refinish it, right?
Contender B.) A $595 dresser in "good" condition at a flea market with a few minor scratches from everyday use. It seems well-cared for, and only needs a polish.
What did you guess? B? Correct! The vintage honey-hued Heywood-Wakefield finish is one part paint to one part stain. Even experienced refinishers find it very difficult getting that stain right.
So, how to avoid a bargain "flop?" Simple! Do Your Homework
Do a little research into your piece of choice. Ask questions. What will it take to refinish it? How much time and cost? Look it up online, in magazines and books. Ask the dealers for insight, too.
Know Thyself and Thy Budget
How much time and money can you honestly afford to invest? Have this answered before you go, and you'll quickly be able to determine if that piece is a "keeper." If you don't have the time, desire or money to renew the piece, then don't waste your time on the one needing the extra love you can't give. If you truly love it, the delight you'll get from your treasure will make the extra costs worth it.
Consider these four tips when shopping for wood items:
Very Old, Rare or Minimally Damaged? Leave It Be
Refinishing rare and pristine-condition pieces can negatively affect their value. Yet, most antiques and vintage goods are common every day pieces and their value is not hurt by a little refinishing.
Do Consider Removing Unoriginal Old Paint
Under that paint could be beautiful wood, or just a lovely piece that would look darling if it wasn't … mustard. Many pre-1970s pieces were painted with lead paint, so be extra-careful with removing it, and follow precautions. Flaky piece can lend a "shabby-chic" air, but you want to be safe.
How Much Sweat Can You Pour?
Consider the labor behind your DIY job. Be honest about your level of challenge. Some old-fashioned finishes, like milk paint, take more time to work with. Be patient, too; refinishing isn't always an instant job.
Leave the Tough Jobs to the Pros
If it takes more sweat then you've got, find a worthy pro who's experienced in special techniques. Ask your antiques dealer to recommend a reputable restorer to help you avoid a shoddy job. The extra costs will be worth the pain you saved yourself!
What about that upholstered ugly duckling? Perhaps that hideous chair can be made smashing.
Only Buy Solid, Clean Pieces
A solid frame in upholstered pieces is like a healthy skeleton. If it's shaky or rickety, forget it. The same if it is moldy — don't risk getting sick. The cost to rebuild, re-spring, reupholster an old sofa is the same as buying a new one.
Consider Expense with Professional Reupholsters
If you have the time and handy skills, it you can save a lot of money doing it yourself. Look up a manual like those on www.repair-home.com and you might have enough to splurge on fabric!
Some Chairs Simply Need a Facelift
Chair cushions are easy to fix. Just pop out the bottom, remove the old fabric, add the new fabric and batting, and staple with upholstery staples. Repair-home.com has a simple how-to on this. If the original upholstery isn't too stained, consider cleaning it.
Finally, don't overlook those cool vintage metal pieces — Baby, we can make your rusty metal new, too.
Rebirth Old Metal with Powder-Coating
Powder-coating is a way to give metal pieces a nice, durable, rust-free finish. Metals like aluminum, steel (even rusty steel) and others are cleaned and then sprayed with a powdered paint that is fused to the metal. Auto-Body and other metal shops will often tackle several pieces for a flat fee, and can create a variety of colors and finishes.
The best deals sometimes can be found for "free." An interior designer salvaged four retro barstools from a dumspter. They were torn and rusty, but after powder-coating and some new shiny red vinyl upholstery, they were indeed "swanky." Her cost? $400. Compare this to $200-$500 for retro-style stools at Design Within Reach!
So, are you ready, Savvy Gals? Happy bargaining!