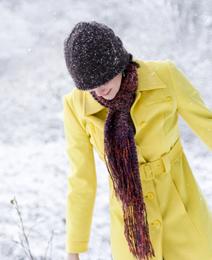 Oh, the weather outside is frightful — but that doesn't mean your wardrobe has to be. Image consultant Marla Tomazin shares her tips for looking fabulous — and staying warm — in the frostiest of temperatures.
Our nation's resident rodent weatherman emerged on February 2nd this year and made it official: six more weeks of winter … six more weeks of snow, ice, and sub-zero temperatures. And if the thought of more weeks full of bulky coats, scratchy sweaters, and thick wool socks has you considering a move south of the equator, then image consultant Marla, an image consultant for 20 years, said then perhaps it's time to re-think your winter wardrobe.
"Just because the weather is dreary, it doesn't mean that your wardrobe has to be, too," Marla said. "If you follow a few simple tricks, your winter ensemble can be every bit as chic and fun as your spring or summer collections."
Here are Marla's tips on how you can bundle up beautifully as winter marches on:
Focus on the first layer. Face it: no matter how stylish your clothes might be, they'll be ineffective unless you look and feel good in them! Because of the cold, wind and inclement weather that abound at this time of year, it's especially important to give your skin and hair the extra TLC they deserve.
If you haven't already, incorporate head-to-toe moisturizing into your daily beauty ritual, and treat your hair to a moisturizing conditioner or hair mask at regular intervals to ward off frizziness and split ends. And carry a tube of lip balm with you at all times — after all, no one likes painfully cracked lips. No matter what you're wearing, Marla said, you'll automatically look and feel better if you've protected yourself from the drying and chapping effects of winter weather.
It's all about a good foundation. Staying warm doesn't have to mean layers of bulky clothes that make you feel more like the Michelin Man than a sleek snow bunny. Bundle up with warm foundation pieces that don't create a lot of bulk, like silk underwear, turtlenecks and leggings. These items will help to trap in your body heat, but won't give you that puffy look that is caused by layering too many heavy pieces together. You'll stay warm — and look hot — all at the same time!
In fact, Tomazin recommends a brand of shirts called HEATTECH. Using a new Japanese technology, these tops look great and keep you just as warm as a heavy sweater or jacket. However, they are thin enough to be worn under a suit jacket — or by themselves. (You can purchase these tops at Uniqlo; they are currently $9.90 and can be ordered by calling the store at 917.237.8800, ext 811.
Put some thought into your fabrics. On especially cold days, it's worth taking a few seconds to check the tags inside your clothing and see just what the fabric is that made them. Wool, cotton, and fleece items are ideal because they're warm, yet breathable. You might want to think twice before choosing an outfit made of synthetic materials like polyester because they won't block out the wind, and they also trap moisture — which can make you feel unnecessarily cold and clammy.
The same thing goes for footwear, Marla pointed out. Leather shoes are more likely to be warm and breathable than those comprised of manmade materials. And lastly, she reminded, don't forget about that annoying fact of life called "static electricity!" If you're worried, wear a slip or invest in some anti-static spray to keep your clothes from clinging and bunching in all the wrong places.
Consider the temperature inside, too. Have you ever bundled up to brave the cold outside, and when you reached your destination — be it the mall, the office, or even someone's home — you're suddenly sweltering? It can be frustrating to try and plan ensembles that not only work for the weather outside but are also appropriate for the temperatures inside — and that still somehow manage to look great, too. Marla said that dressing in layers — and really thinking them through — is the key to winter wardrobe success.
She suggested that when you assemble an outfit, dress in layers that will work alone as well as together. Layer a long-sleeve blouse underneath a warm sweater, and use this as the base for your suit at the office. This way, if you get hot during the day, your blouse will look just as great under your suit as the sweater — and you stay comfortable no matter where you are.
Put your best boot forward. There's nothing sexier than a pair of sleek, knee-high boots. And fortunately, they're also great for keeping you warm during the winter months. Invest in a quality pair of boots in black or brown (or both!) to help keep your feet warm and toasty.
Marla said that the right pair can take you right from work to weekend, worn with warm cable-knit tights and a skirt to the office, or with a great pair of jeans for running errands on Saturday. If you live in a climate that gets brutally cold, then consider a fur-lined or even waterproof pair. And be practical — if the weather outside has made walkway and parking lots slick with ice, then leave the heels at home. There are plenty of stylish flat-soled options out now that are perfect for days just like this.
Stock up on scarves. Scarves are a great way to stay warm while adding a great punch of color and style to any outfit. They come in a variety of colors, sizes, patterns, and textures, and can be bought to fit in any budget.
Marla suggested buying scarves in unexpected colors or patterns — this will give your basic blacks or winter whites a fabulous splash of color. Use scarves as a way to venture outside your comfort zone. If you typically shy away from bold reds or purples or fun patterns, like hound's-tooth or paisley, then a scarf is a great opportunity to incorporate these sassier styles into your outfits.
Embrace the arctic temps as an opportunity to accessorize. Don't get bogged down by toboggans and mittens! Choose accessories that add something stylish to your outfits and that protect you from the elements at the same time. Keep it consistent with a matching hat, gloves and scarf of the same color or pattern. Trade your usual stockings for a pair of cable-knit or patterned tights and swap your ho-hum toboggan for stylish hats. Embrace the opportunity to think outside the box and to wear winter accessories in new and unexpected ways.
Simplify your snow day attire. Invest in a warm coat in a classic cut and style so that it can work with most any outfit and will be appropriate for most occasions. Marla said to a coat in a neutral shade (like black, brown, or beige) and then coordinate it with a warm pair of fur-lined boots in a complimentary color. This way, when it is freezing outside you have an easy formula that works with whatever you choose to wear underneath.
"Don't let the gloomy gray weather dictate your style," Tomazin concluded. "Choose to think about dressing warmly in a new light. Once you start to reconsider your cold-weather attire, you'll realize that beautiful coats, boots made of soft, creamy leather, and playful accessories are just as fun and exciting to wear as any sundress or pair of peep toes. It's all about your state of mind — and pretty soon you'll be looking forward to the chance to bundle up against winter's cold."
Marla Tomazin established her image consulting business in 1990 with the goal of helping clients identify an authentic image and develop its effective expression.

From a successful 20-year career in the fashion industry, Marla gained expertise in retail buying, merchandising, sales and marketing. The progression to Certified Image Consultant was a natural transition. Marla utilizes her abilities in evaluating body shape, movement, and coloring as well as synthesizing optimal cuts, lines, colors, and textures. This results in balance and proportion that accentuate attributes and conceal flaws. Her clients include women, men and corporations seeking external revitalization that mirrors their internal development.

For more information, please visit www.MarlaTomazin.com.
<![CDATA[style, wardrobe, winter wear]]>