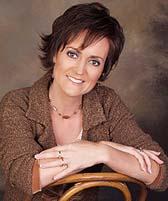 A mother's love is a force of unbelievable strength, and one mother's love may help find the cure for diabetes, a disease that is considered to be the fifth deadliest killer. Brenda Novak is a mother, writer, volunteer and organizer of a hugely successful annual online auction, which donates all proceeds to diabetes research.
Brenda's youngest son has diabetes, and her child's suffering led her on a journey to help him and others like him.
Four years ago, she organized the auction to raise money for diabetes research. During its four years of existence, the auction has raised more than a half a million dollars!
"I had no idea about the number of people facing this disease until my son was diagnosed seven years ago," Brenda said.
"Then I learned that it isn't simply a matter of taking insulin. Regulating blood sugar without a healthy pancreas is nearly impossible, and the side effects are catastrophic and numerous. Once I was educated on the need, I wanted to make a difference, to fight back."
The auction page received 240,000 hits last year, raising more than a quarter of a million dollars last year alone. Every year, the amount increases enormously, thanks to more and more people participating in this important project. (In 2009, with the negative economy, Brenda would be thrilled just to match the $252,300 she raised last year. But as a positive thinker, she's set the 2009 goal at $300,000.)
Brenda did not initially expect the auction to take off the way it did. She remembers attending a Monte Carlo fundraiser night for another cause, where the sponsor raised $12,000 — a huge amount she thought. This mom was envious of the organizers' ability to work toward a cure and wanted to do something herself. So she organized her own event and raised more than $35,000 in the first year, nearly three times the amount that had once impressed her so much.
The auction Brenda organizes is held every May at http://brendanovak.auctionanything.com/Home.taf and she is currently accepting donations for it. The auction usually offers anything from autographed books, gift baskets, critiques from editors and literary agents, trips, art pieces, jewelry, designer purses, autographed sports memorabilia and many other items.
It hasn't all been a bed of roses though. The worst auction moment for Brenda happened three years ago, when a volunteer, who was suppose to help her download all the pictures, disappeared as a participant at the last moment. Her sister-in-law, who was also Brenda's best friend, had just died, and the auction was scheduled to go live in four days. She had family visiting from out of town, not to mention the fact that she was grieving, and had to load all the items into the software by herself. Brenda worked around the clock — until her eyes were so fatigued she could no longer see! But she pulled it off with success.
But the best moment was when last year's total rolled in. "Never in my wildest dreams did I expect the fruits of my labor to break a quarter of a million dollars," Brenda said. "It was such a fabulous moment. It also showed me the potential.
Now I'm thinking big, and hoping to build the auction into the $1,000,000 per year event I believe it can be."
Diabetes has touched the lives of so many people. Almost everyone has a family member, friend, collegue, or has known someone suffering from this disease. And every day a mother of a child with diabetes is filled with worry and responsibility.
Certainly, this auction will be Brenda's legacy. But "volunteer" is only one of the many roles of this amazing woman.
Brenda Novak is a great friend, a New York Times mother of five and a best-selling author.
Her writing pieces have been placed on many bestsellers lists, including the Walden/Borders Bestsellers List, the USA Today Bestsellers List, and the New York Times'. In a way, her career as a writer spawned from an alarming accident in her own family.
"I caught my day care provider drugging my children with cough syrup and Tylenol to get them to sleep while I was away," Brenda said. "It was then that I decided that I needed to do something from home." It took her five years to teach herself the craft and finish her first book. Now, her books are critically acclaimed; she has won the National Reader's Choice, the Bookseller's Best, the Award of Excellence, the Beacon Award for Published Authors and others.
For more information on Brenda, the auction, or to donate, http://brendanovak.auctionanything.com/Home.taf
Author Olga Grun's publishing credits include 200 articles, short stories and poetic works in five languages, which she speaks fluently. Her writing interests range from romantic suspense novels to senryu to travel portraits. But her biggest aspiration is to make a difference in somebody's life, be it with one page — or one step toward a cure — at a time. She can be reached at olgaverde@gmail.com.