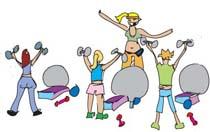 Joining a gym used to be pretty simple, but these days there are so many options that you could practically get fat just sitting around thinking about all of the different ways to get in shape.
While there are many choices in the fitness market, they are not all effective, and deciding which fitness center to join will be a critical factor in the success of your ongoing health and fitness plan, so it deserves some time and attention.
There are independently owned gyms, global franchises, big box mega-centers with everything you could possibly imagine, as well as niche centers specializing in a specific type of exercise, and studios tailored to fit individual needs. Before making this big decision, consider your personal fitness goals and behavior patterns. Do some research, determine your specific needs and preferences and visit at least three places.
Here are five tips to consider before fully committing to a club:
1. Check out the machines. Not all equipment is adjustable and machines wear and tear with time and use. Using equipment too big or small for your body can contribute to serious injuries. Make sure the equipment is adjustable to your body to ensure proper body mechanics while working out.
Likewise, older machines are more prone to breakdowns or malfunctions. Notice the age and quality of the machines. Are they shiny and new or worn out, dated or out of order? Technology changes frequently-you want a fitness center willing to invest in keeping its equipment functional and up to date, so you can focus on burning calories and building muscle.
2. Make sure you can continue to progress on your fitness goals. At some clubs, after you do their program consistently for a period of time, you plateau and stop seeing improvements and results. When looking at a fitness center, make sure it will continue to be challenging and progressive for you as you get stronger. It is important that gyms promote a balanced fitness program focusing on strength, endurance and flexibility to get the most out of your workout, without injury.
3. Assess the culture of the club. Some places are designed for fitness and that's it. Others are designed to build a community promoting and supporting comprehensive wellness.
If you're looking to embrace a total fitness lifestyle, perhaps you would be better served by a place that can be a one-stop shop to assist you in your comprehensive pursuit of health and wellness.
Is it important to you to make friends through your fitness center and have it be a social outlet as well? Is one of your goals to make business connections in addition to just working up a sweat? Many clubs hold social events, educational classes, and sponsor group outings. If you see your gym becoming a part of an overall healthy lifestyle, you'll want to join a gym that offers more than just "fitness."
4. Check out the staff. Make sure the staff at the clubs you're considering is properly certified. Even though the trainers are ripped and the instructors look good in spandex, this does not mean they have proper certifications. They should be certified from a reputable organization like the American College of Sports Medicine, the National Strength and Conditioning Association or the National Academy of Sports Medicine. Ideally, they should also have a four-year degree in an exercise science or related field.
5. Do a gut check. Even a club with state-of-the-art facilities may not be the best fit for you. When inside the gym, do you feel like you are in your element or out of place? Do you feel at ease and want to go there often? Are the instructors and staff supportive and positive? Is the atmosphere fun and inviting? Your first impression is often the best.
A gym should be a place that is welcoming and calls to you. Take time to choose the right fitness facility to fit your particular needs. You'll be glad you did and your results will be better because of the amount of time you wisely invested up front.
Connie Jeon is a licensed physical therapist, registered/licensed dietician, health/fitness instructor, and a comprehensive trained Pilates practitioner. She is also certified in adult weight management and promotes healthy lifestyle to all her patients and clients. She is the owner of Novo Physical Therapy/Pilates and elements (TM) diet and fitness center in Suwannee, Georgia. Questions should be directed to conniej@elementsforwomen.com.