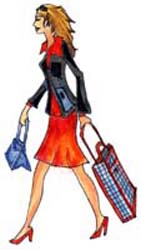 Imagine walking into the 4-star hotel room you booked online to find dirty sheets from a previous guest. When the management bashfully upgrades you to another room, you then find hair in the sink that the housekeeper missed.
Of course, you call your online travel service to complain, and they inform you that your fee is nonrefundable and they apologize — but ask you to take your complaint to the front desk. There, it falls by the wayside. As far-fetched as this sounds, it's a true story. Had this guest booked with a reliable travel agent, she would have had an advocate to go to bat on her behalf.
Most people shy away from using a travel agent because they think the "better deals" are found on the Web. That just isn't true. The travel agent wants to find you the best price for the best vacation.
Travel agents are also service oriented, offering that personal touch. Because when you get stuck in a bad situation … who can you call? And if you can actually locate a phone number, will you find a live human on the other end?
Another reason a vacation can be wonderful for you is that most travel agents are constantly educating themselves in order to provide clients with a wealth of knowledge and experience. Oftentimes, it's information that is not available on the Internet.
Yes, I am a travel agent, so I'm biased. But I've personally traveled the world, cruised on the top cruise lines and toured with the best companies. Many reputable travel agents have. So not only can we steer you in the right direction from our personal experience, our connections with the airlines, hotels and cruise lines will enhance your vacation.
With a good travel agent, you'd never get a room overlooking trash receptacles. We call ahead to our travel industry representative, and thus, you are greeted with welcome amenities, a note from the manager — and a great room. Possibly even an upgrade. Your room could also come with breakfast and late checkout. And when it's time to leave, if you're stranded at the airport, you can call the travel agent to help you find your way home.
Online travel services buy hotel rooms and flights in bulk to pass the savings on to the consumer. But the travel agent can often get the same deals, if not better — and you get the personal service as a bonus. Since many of the Web-based travel sites are so restrictive, shoppers are unable to specify their preferences. With a travel agent, you can outline all your wishes and expectations, and he or she will get to work, offering you a trip that meets your goals and standards. So don't be afraid to call a travel agent. Finding you the best package for the best price is their ultimate mission.
Marsha Calig is president of Altour/Calig Travel & Cruises and can be reached at 818.703.0100 or ; www.caligtravel.com.