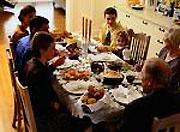 Whether you embrace the season with the exuberance of kids awaiting Santa Claus or the anxiety of Ebenezer Scrooge bound by Marley's clanking chains, one thing is certain: no other time of year renders us so busy yet so eager for the relaxed, cozy comforts of home and family. If carving out time for the people who matter most to us is the priority, how do we get around to carving the turkey? Trying to pull off the perfect holiday might be just the thing to really put a damper on your holiday spirit.
"No one can do it all," professional personal chef Beth Andresini said. "Each and every year, I see people grind themselves down to the bone trying to maintain their regular schedule and pace under the increased pressure of the holidays. It becomes very hard to find a moment to enjoy any of it when you are concerned with accomplishing all of it."
But, according to Andresini, owner of Thyme for You, LLC, a personal chef service, with some basic planning, realistic expectations and a few tricks up your sleeve, a perfect holiday might not be so out of reach.
"People get hung up on doing everything themselves within the two days leading up to a holiday or celebration," Andresini said. "That's an excellent way to make you frantic during an already busy season." Her advice? Avoid common pitfalls with three simple steps: Plan ahead and organize, simplify to save time and effort and, when all else fails, call in the pros.
So, when should you begin planning? According to Andresini, it's never too soon.
"There are certainly ways to plan ahead and simplify your life," Andresini said. "Imagine your ideal holiday and begin to build a realistic plan of attack." Andresini suggested asking yourself some basic questions including: Who are you expecting? What is most important to you when you entertain? Where can you get the biggest bang for your buck and what might not be worth the hassle?
"Clearly, if you are making dinner for your in-laws, you have less to think about than if you are hosting your entire neighborhood for an open house, but either way, you can get a jump on your celebration by planning ahead," Andresini said. Look for recipes able to be made and frozen to develop a menu that allows you to take advantage of your time before the real crush of holiday commitments begins.
"People are often surprised to learn how well simple things like cookies, desserts, side dishes and appetizers fare in the freezer. You can save yourself a lot of stress by getting a few batches of holiday cookies baked well in advance and stashed away," Andresini said.
Simplifying your holiday celebrations may be easier said than done. Andresini relates the story of an acquaintance who was so obsessed with recreating the holidays she grew up with that she had worked herself into a frenzy weeks before the holidays even arrived.
"She was determined to bake each of her children's favorite cookie, prepare each element of a four course meal for 18 family members from scratch, mull the cider, whip up the egg nog, string the popcorn on the tree … you name it,"
Andresini recalled. "She was so overextended that she was using up vacation days and found herself racing to make it to her kids' holiday concerts. Her heart was in the right place. She sincerely wanted to create the perfect holiday for her family." But at what cost?
"Each of us is only one person. Focus on the elements of your holiday that are most important to you, like your grandmother's rugelach recipe and your great-aunt's oyster dressing, and let some of the other details go," Andresini recommended. "Your family will not know or care whether you whipped the potatoes yourself or whether they came from your grocer's prepared food case, and they would probably prefer a bit of your time over eight different types of cookies. There are ample resources available that can help you buy yourself some time and peace of mind on the little things without diminishing your from-scratch efforts."
However, if your style is more "from a restaurant" than from scratch, there is no need to sacrifice the cozy holiday atmosphere of a sumptuous feast at home. For those who would like to hand over the whole task of holiday entertaining, help is just a phone call away. Professionals like Andresini are in business to deliver your holiday to you, ready to heat and serve.
"If you don't enjoy the preparation and cooking, don't do it," Andresini said. "Invest your time in the activities that bring you the most satisfaction. If this doesn't include slaving over your stove all day and night, don't waste a moment feeling guilty about it. Hire a personal chef who can help you achieve your perfect holiday and relax."
Beth's client agrees wholeheartedly. While she enjoys cooking and entertaining, her Christmas open house wouldn't happen without Beth. "I like working with Beth because I can do the things I like to do, like deck the hall, and make some of my traditional dishes, and Beth does the rest. She helps with great food that complements my dishes and has great time saving ideas."
What could be simpler?
There is, however, one caveat. You aren't the only one feeling the holiday crunch.
"Make that phone call now," Andresini warned. "This is our busiest time of year by far."
Recipe:
Mini Cheese Stacks
4 – 5 oz. jars Old English cheese (found by the Velveeta)
1 tablespoon dried dill weed
1 tablespoon onion powder
Dash of hot pepper sauce
1 pound (4 sticks) butter, softened to room temperature
3 loaves very thin white bread
Using a mixer, whip together cheese, butter, dill weed, onion powder and hot pepper sauce until very well blended and almost light and fluffy.
Cut crust off of bread. ( I usually do this while I have my butter mixture mixing in my stand-up mixer).
Lay out 9 slices of bread – 3 across and 3 down.
Using a sandwich spreader, spread the butter mixture on each slice (don't be shy, you want a nice coating).
Stack the bread 3 slices high.
With a bread knife, cut the bread stacks into 6 pieces.
Remove each stack of bread as you do them to a parchment lined baking sheet ready for freezing.
When frozen, remove from pan, break pieces apart and store in freezer bag.
To serve – bake frozen stack on baking sheet at 350 degrees for 15 minutes.
Visit www.thymeforyou.com for more information