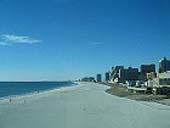 Atlantic City, New Jersey is known all over the world for its casinos and famous boardwalk, but not much else. However, in recent years the city has expanded its offerings to include outstanding nightlife, shopping, luxury accommodations, spas and fine dining.
When these fun-for-all activities are paired with the city's 11 casinos, sandy-white beaches and expansive boardwalk, Atlantic City has become a premier East Coast destination with something for everyone.
Located in the heart of the northeast, Atlantic City is easily accessible by car, airplane and train. Once you're there, you can get around by foot, taxi, bicycle and public transportation. The city also operates jitneys that run parallel to the entire length of the boardwalk. The hardest part of getting around the city is deciding what to check out first!
Fuel Your Fun
A good place to start is a pit stop for food so you have some fuel to propel you through your visit. Dining choices abound throughout Atlantic City and whether you have a taste for Italian, French, American, Asian, Cuban or even Russian cuisine, you are sure to find something to please your palate.
If your stomach is growling for a large meal, many of the casinos offer huge buffets, such as Harrah's Resorts, which has the award-winning Waterfront Buffet restaurant. Featuring more than 100 different food choices, including seafood, sushi and a salad bar, the buffet is definitely a culinary experience.
For those craving a gourmet meal prepared by the finest chefs, one such eatery is Sonsie, located in the Pier Shops at Caesars. The restaurant serves high-end meals and has a 300-bottle wine list. There is also Wolfgang Puck American Grille, which features the renowned chef's innovative style. Here you'll find mouth-watering dishes like hand-cut angel hair pasta and asparagus risotto.
Of course, no trip to Atlantic City is complete without sampling some of the tastes found on the famous Boardwalk. A quick stroll will yield yummy treats like soft pretzels, hot dogs, cotton candy, pizza and elephant ears. The Boardwalk is also brimming with little stores that sell T-shirts, knick-knacks and Atlantic City's famous salt-water taffy.
Shop Around
If you're looking for some great deals on clothing, accessories and souvenirs, or if you're ready to splurge on designer duds, Atlantic City's large assortment of stores and boutiques have got you covered.
Downtown houses The Walk, an outlet center with well-known retail stores such as Nautica and Banana Republic. For more upscale shopping, check out The Pier Shops at Caesars, where you will find coveted high-end boutiques like Tiffany & Co., Louis Vuitton and Gucci.
If you prefer to find some memorable souvenirs, you'll discover unique stores like Houdini's Magic Shop, Jake's Dog House and Vino 100 at The Quarter in Tropicana.
Pamper Yourself
After all that eating and shopping, be ready to kick back and enjoy some pampering at one of the city's many luxury spas. Everything from manicures to massages and facials are available to help you relax and enjoy your time away from home.
For starters, the Hilton Casino Resort's 13,000-square-foot health spa features a tropical garden setting, marble floors and hand-painted murals for the ultimate setting. With a complete workout facility, a professional massage service, sauna, hot tub, steam room and indoor swimming pool, you will leave feeling like a million dollars.
Another pampering option can be found at The Spa at Bally's. With options like deep tissue massages, herbal wraps and the Boardwalk Macaroon — a "decadent sugar scrub topped with a generous helping of coconut moisturizer" — you might have trouble choosing which relaxation technique to enjoy.
Light Up the Night
Once you've enjoyed the VIP treatment at any one of the spas, you'll be ready to hit the town for a night of fun. Atlantic City's nightlife scene caters to all interests, whether you're looking to dance, laugh, take in a show or see the hottest bands.
For those looking to get their groove on, the Casbah Nightclub at the Trump Taj Mahal Casing Resort is a hot pick. Named one of the top 100 dance clubs by Nightclub & Bar magazine, the club showcases celebrity DJs and outstanding professional dancers. Other clubs like the Borgata's Mixx and The Wave, at the Trump Marina Hotel Casino, are also great places to dance the night away.
However, if a laid-back scene is more your style, you should check out The Comedy Stop Cafe & Cabaret. It is Atlantic City's longest-running and most successful comedy venue and is celebrating its 25th anniversary this summer by welcoming some of comedy's top entertainers.
Music lovers can also enjoy plenty of options, with popular venues like the House of Blues and Atlantic City's Boardwalk Hall hosting shows by a number of famous entertainers like Billy Idol, the Indigo Girls and Jimmy Buffett.
Visitors who prefer to sing their own tunes will no doubt love Planet Rose, a cocktail and karaoke lounge housed in The Quarter at Tropicana that bills themselves as the "the great karaoke bar on earth." The cool and funky atmosphere makes for a great place to belt out your favorite songs.
Retire In Style
At the end of a jam-packed day of fun, food and entertainment, you'll certainly be ready for a good night's sleep. With literally thousands of rooms available, you shouldn't have any trouble finding the perfect place to rest your head.
If you want to stay in the center of the boardwalk, the Trump Taj Mahal casino resort is an excellent place. Guests can enjoy the property's casino, five-star restaurants, lounges, nightclubs, spas, salon, fitness center, indoor pool and retail stores. Voted the best hotel by readers of Casino Player magazine, the resort boasts comfortable and sophisticated accommodations for every budget, including contemporary rooms, executive suites, grand suites, regal suites and penthouse suites.
The Borgata Casino Hotel Casino & Spa, located off the Boardwalk, is one of the city's most popular places to stay. Designed in the classic Italian style, the hotel's 2,000 rooms and suites include six tiers of accommodation: 460-square-feet classic rooms, 700-square-feet Fiore suites, 1,000-square-feet Opus suites, 1,500-square-feet Piatto suites and 5,000-square-feet residences. Amenities include floor-to-ceiling windows, 300-thread-count Egyptian cotton bedding and bath sheets, glass-enclosed showers and high-speed internet access.
Get In on the Excitement
Michael Brucker, media relations manager for Atlantic City's Convention and Visitor's Authority, recently stated in Market Watch magazine that "The city has evolved into a full destination resort, not just a gaming town, and dining and nightlife have grown tremendously as a result."
This being said, it is clear Atlantic City has become a top-notch destination that's perfect for your next getaway. Whether for a weekend or an extended stay, now is a great time to get in on the excitement brewing in Atlantic City.