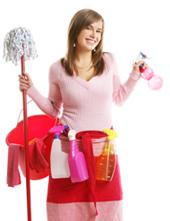 Parents today take great care not to give their children snacks laden with chemicals and preservatives. Can they say the same thing about the household cleaners they use? Does the quest for clean countertops and glistening windows pose an increased risk of asthma or cancer from toxic cleaning agents?
How about these for ingredients? Calcium carbonate, chlorine bleach, alkyl dimethyl benzyl ammonium chloride, ethyl alcohol and tetrasodium ethylenediamine tetraacetate.
If these take you back to your high school chemistry class, bear in mind you wore goggles and possibly protective gloves when handling the chemicals. So, has your child or pet ever come in contact with a newly cleaned floor or window? Think of the chemicals able to be absorbed through the skin. Not very healthy or appealing!
Eco-friendly household cleaners do exist and can give you both sparkle and peace of mind. Some alternative markets, for example Whole Foods and Trader Joe's, may stock safe cleaning products made by Ecover and Seventh Generation on the shelves.
This spring you could borrow a few tips from grandma's cleaning regimen and make your own cleaners using simple recipes. Common household items such as lemon juice, white vinegar, table salt and baking soda can be used in homemade cleaners.
Here are two basic recipes:
Glass cleaner
4 tablespoons lemon juice
1 gallon water
Note: 1/4-cup white vinegar can be substituted for lemon juice, add to 1 quart of water. Try using old newspapers or a clean rag instead of paper towels. Your windows will be lint and streak free.
All-Purpose Cleaner
1 quart warm water
1 teaspoon liquid soap
1 teaspoon borax
1/4 cup undiluted white vinegar
Mix ingredients and store in a spray bottle.
Giving your home a thorough spring cleaning doesn't mean you have to use harsh chemicals. Mix your own cleaners with items readily found in your kitchen and you'll save money and toss the goggles. Banish those toxic chemicals and clean the way grandma used to.
Next up, here's a question from a reader:
Dear Eco Gal,
I've decided to be serious about decreasing my garbage going into the landfill and began collecting compostable kitchen materials in large reusable yogurt containers. Given I'm a vegetarian and live alone, this was easy to do. My problem is I have nowhere convenient (and eco friendly) to take my compostable materials. I live in an apartment and do not garden.
I understand my city where I live, Evanston, IL, has composting for lawn material. Are there any plans to develop a communal compost bin for kitchen scraps? If people composted their kitchen stuff, there would be no need to use garbage disposals or take up landfill space with plastic garbage bags filled with compostable materials.
Joan D, Evanston
Dear Joan,
First, kudos on your personal commitment to an eco-friendly lifestyle! Your decision to compost kitchen scraps is laudable. I spoke recently with contacts at the City of Evanston and, unfortunately, there are no plans for a communal compost site for kitchen scraps. Furthermore, the yard waste compost site in James Park was closed due to lack of funding.
You might want to replace the yogurt containers with an odor-free compost pail. A popular version is available from the National Gardening Association (www.garden.org) , which retails for about $20. Its ample size holds 1-1/2 gallons of kitchen scraps, has a lid that snaps shut firmly and a carbon filter to eliminate odors (filters last three months and replacements are sold separately). The pail measures 9″ x 9″ x 12-1/4 to fit easily on a countertop or under the sink.
As a vegetarian, your diet automatically eliminates many of the materials on the OUT list of composting do's & don'ts compiled by the Environmental Protection Agency. Food items such as meats or fish bones and scraps; fats or oils; butter, egg yolks, milk, sour cream and yogurt are "don'ts" because they can cause odor problems and attract rodents and flies. Visit the EPA Web site (www.epa.gov) for the complete lists and other useful information.
Regarding what to do with composted kitchen waste, those who don't have a home garden may want to look at community garden options. Evanston has four such gardens: James Park Gardens, south of Oakton between McCormick Blvd. and Dodge Ave.; Twiggs Canal Gardens, by the intersection of Bridge and Simpson, on the south side of North Shore Channel in Twiggs Park; McCormick Gardens, at McCormick Blvd. and Bridge, across the street from the Ecology Center; and Lighthouse Gardens, off of Sheridan Rd., north of Grosse Point Lighthouse. Additional information is available at the Evanston Ecology Center.
Another option, if someone on your block has a single-family residence, is to offer your composted material for their garden. By sharing your composting not only are you sending less waste to the landfill, you're also helping to beautify the community. Garden soil fed organic matter from composting usually has improved texture, water-holding capacity and fertility.
This basic composting information may spark the interest of some and the resources listed here are a good starting point. For those who want to delve deeper into the subject, the Evanston Ecology Center will offer a composting class Thursday evening, April 17, 2008. Another local resource is the Chicago Botanic Garden (www.chicagobotanic.org).
NOTE TO SAVVY GAL READERS: Localized resources for Joan D's city were used to answer her question. The National Garden Association and the EPA are good resources no matter where you live. Another national resource is the American Community Garden Association (ACGA) (www.communitygarden.org). If your city or town has a botanic garden or nature center, most likely the people who staff those facilities could answer specific questions related to composting.
Contact the Eco Gal at ecogal247@yahoo.com with questions or comments