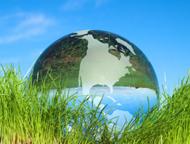 April is Earth Month and making greener choices is a recurring theme of this column. To commemorate this special month, we'll look at ways our everyday choices affect and impact the Earth's energy reserves. What will it be? Paper or plastic; a long-luxurious bath or a quick-energetic shower; a fuel-efficient or a gas-guzzling car. The choices you make can determine your impact on Planet Earth.
Here are some statistics and environmentally friendly alternatives that bear repeating:* Americans throw away 25 trillion Styrofoam cups each year (source Solid Waste Agency of Northern Cook County). Carry a reusable beverage container and use washable cups when feasible. For large group activities, encourage sponsors to serve beverages from aluminum cans or bottles (plastic or glass).
An average bath uses 15-25 gallons of hot water, while a five-minute shower uses less than 10 gallons (source U.S. Dept. of Energy). Take showers instead of baths and you will conserve water and lower your utility bills.
If each U.S household replaced one incandescent bulb with an Energy Star(r) qualified compact fluorescent light (CFL), the pollution prevented would equal removing one million cars from the road (source Energy Star).
In 2001, U.S. consumers generated 11 million tons of plastic containers and packaging. Municipal solid waste accounted for 25.4 million tons of plastic or 11.1% of total waste (source EPA). When buying prepared foods or take-out, choose recyclable containers. Be pro-active: use the manufacturers' toll-free number or Web site to ask them to use recyclable packaging.
Observe this Earth Day by pledging to make greener choices at home, work and school, and on the road. Many large metropolitan areas are fortunate to have decent public transit systems. Yet, for a variety of reasons, not everyone uses public transportation as commuters or during leisure time.
With predictions that gasoline prices could reach $4 per gallon by summer, how can we drive more efficiently and with less strain on our pocketbooks? Not all oil companies are created equal as illustrated by a Sierra Club magazine article titled, "Pick Your Poison: an updated environmentalist's guide to gasoline." The January/February 2007 piece ranked eight of the largest oil companies into three groups according to social and environmental practices.
Giving a slight twist to the categories, here are the rankings:
The Good: BP and Sunoco
The Bad: Royal Dutch Shell, Chevron, Valero Energy Corporation and Citgo
The Ugly: ExxonMobil and ConocoPhillips
Many may recall a Chicago Tribune report last summer that BP sought EPA permission to dump ammonia and other toxins into Lake Michigan from its Whiting, IN refinery. This proposed action hit close to home and many Chicagoland motorists chose to express their displeasure at the gas pump.
One must to go further back, 17 years to be exact, to recall the disastrous Exxon Valdez oil spill in Alaska. ExxonMobil still hasn't paid the punitive damages and the oil giant continues to seek permission to drill in the Arctic National Wildlife Refuge despite protests from millions of U.S. citizens. Which oil company has rates your hard-earned dollars?
Moving on to automakers, in April 2007 the Union of Concerned Scientists (UCS) issued its biennial ranking of the greenest cars. Measured by the average emissions of CO2 and NOx from vehicles actually sold, Honda has topped the group's rankings as the greenest automaker in the U.S. for four consecutive years. Close behind was Toyota, with Hyundai-Kia, Nissan and Volkswagen in the third, fourth and fifth spots. At the back of the pack were Ford and General Motors, with Daimler-Chrysler in last place.
Don MacKenzie, the report's author, said, "There is a huge gap between the cleanest and dirtiest automakers. The winners are using clean technology across their entire fleets. The losers are installing it piecemeal, or not at all."
A 2008 report at AOL Autos, listed the top 11 fuel efficient cars:
1. Toyota Prius — 45/48 mpg (city/highway)
2. Honda Civic Hybrid — 40/45 mpg
3. Nissan Altima Hybrid — 33/35 mpg
4. Toyota Camry Hybrid — 34/33 mpg
5. Toyota Yaris — 36/29 mpg
6. Toyota Corolla — 37/28 mpg
7. Mini Cooper — 37/28 mpg
8. Ford Escape Hybrid– 30/34 mpg
9. Honda Fit — 30/28 mpg
10. Honda Civic — 34/26 mpg
11. Hyundai Accent — 32/27 mpg
To improve your gas mileage no matter what type of vehicle you drive, follow these driving tips from the U.S. Department of Energy:
Idle no more than 30 seconds on winter days. The best way to warm up a vehicle is to drive it.
Don't drive aggressively (speeding, rapid acceleration and hard braking), it wastes gas and can lower highway gas mileage by 33% and city mileage by 5%.
Don't drive too fast. At speeds above 60 mph, gas mileage drops rapidly. Check how driving speeds affect gas mileage at www.fueleconomy.gov.
On the highway, cruise control helps maintain a constant speed and usually saves gas.
Use air conditioning only when necessary.
Extra weight can decrease gas mileage, so clean out your car.
Contact Eco Gal at ecogal247@yahoo.com