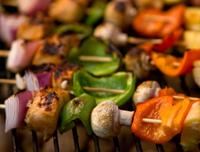 Dear Eco Gal,
My family has been spending lots of time outdoors each summer. How can we enjoy activities, such as grilling and picnics, while still being earth friendly?
Concerned Mom
Dear Concerned Mom,
First, you might want to rethink your grilling habits. Propane gas burns cleaner than charcoal or wood but it is a nonrenewable resource. For outdoor cooking, electric grills are the least polluting, with 91 percent less CO2 emissions than charcoal and 21 percent less CO2 emissions than propane. If you must use charcoal, avoid the easy-light kind because while burning, the lighter fluid is soaked in and releases several volatile organic compounds (VOCs) into the air.
Even better, think out-of-the-grill (i.e., outside the box) and give solar cooking a try. When you use a Global Sun Oven to bake, boil or steam your food. The heat stays outdoors, saving energy costs, while reducing your carbon footprint. It's amazing how the sun can transform ordinary foods into mouth-watering delights while cutting fossil fuel consumption.
The Sun Oven can be set up or taken down in a matter of seconds. The reflectors literally fall into place at an angle that allows you to maximize the power of the sun. They are made of highly polished, anodized aluminum that can be cleaned quickly and easily with glass cleaner and will never oxidize or rust. Its size is 19" x 19," with an average depth of 11" and weighs only 21 pounds. The Sun Oven retails for about $279, which is less than many gas grills, and might be one of the best investments you'll ever make.
After cooking turkey burgers and steaming brats, serve your eco-friendly meal on tableware made from 100 percent recycled plastic (including yogurt cups). Preserve plates, cutlery and tumblers are dishwasher safe, reusable and recyclable. All Preserve products are made in the USA, so they are shipped shorter distances, using less fuel and limiting their carbon footprint. Check out other reusable items at www.recycline.com.
When shopping for your cookout or picnic, don't forget to stock up on fruits and veggies from local farmers' markets. Some of these markets even sell meats, cheeses and baked goods. Also remember to take reusable bags or baskets to hold your purchases.
Don't go outdoors without sun damage protection. Choose a lip balm from Eco Lips and your purchase will serve two purposes. First, healing organic herbs and moisturizing organic vegetable oils provide lasting sun protection for your lips. Second, based in Cedar Rapids, Iowa, Eco Lips was set in the heart of the flood that devastated parts of the Midwest. The water current of the Cedar River literally ran through the company's headquarters, where its sales, productions and fulfillments were located. The good news is that Eco Lips is up and running in a new space and striving to make up for its losses. Please consider helping this small company's recovery by ordering online at www.ecolips.com.
With some careful planning and shopping, your family can enjoy the outdoors this summer with minimal impact on the earth.
Contact Eco Gal at ecogal247@yahoo.com