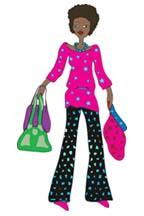 Whether you're planning a Valentine's love gift or just clearing out the junk in your mailbox, there are so many options to be green these days. Here are a few ideas to make it even easier …
Valentine's Day Goes Green
All's fair (trade) in love and chocolate
This Valentine's Day treat your sweetheart and the environment by giving fair trade products. For example, who doesn't like taking a bite of smooth, creamy chocolate? On a chilly winter night, a cup of warm, soothing hot cocoa will tempt you. But instead of the run of the mill commercial sort, why not give fair trade chocolate a try?
Cacao pods produce the cocoa seeds (beans) used for Endangered Species Chocolate grown in the natural shade of rich, diverse forests. Choosing the company's products is one way to support sustainable forest farmland and the species flourishing there. Since the raw materials are ethically traded, Endangered Species can ensure farmers humane working conditions and a fair price for their cocoa.
The Indianapolis-based company donates 10 percent of its profits to support species, habitat and humanity. Shop locally for these chocolate bars at natural food markets and other fair trade food merchants. For more information, visit www.chocolatebar.com.
Adopt an imperiled animal for Valentine's Day
Speaking of animal protection, how about adopting one for your Valentine? Until recently, polar bears have been one of nature's hardiest survivors. Due to the global warming, scientists predict two-thirds of their global population could disappear within the next fifty years! Rising temperatures are literally melting the ice beneath their paws, drastically reducing their habitat and food supply.
The National Wildlife Federation's adoption center offers packages starting at $30 for polar bears and other imperiled animals. Visit www.nwf.org for details.
Save the planet … one kiss at a time
Can a tube of lipstick be good for the environment? It can be if Aveda makes it. The cosmetics, skin and hair care manufacturer makes dozens of tempting lipstick shades in tubes easy to insert into sustainable lip case.
Organic ingredients such as alfalfa, bilberry, carnauba wax, mango butter and sesame oil are used to produce the lip colors. Up to 65 percent post-consumer recycled aluminum and 30 percent natural flax fibers make the refillable lip color case.
Visit www.aveda.com to learn more about the refillable lipstick case and lip colors. Wear lip products by Aveda and save the planet — one kiss at a time.
Organic wine, cheese and thou
New York-based Four Chimneys Organic Wines is America's first organic wine company. Names such as First Love (a Riesling-like white) and Honeydew Moon (aroma and flavor of this melon), can set the mood for a romantic evening. For more details, visit www.fourchimneysorganicwines.com.
The award-winning cheeses produced by Wisconsin-based Organic Valley Family of Farms will not only please the palate, but also promote regional farm diversity and economic stability. Check out www.organicvalley.coop to find a local market selling their products.
Sweet gifts for sweethearts
From Rose Petal Tea and an Artisan Spa Box to an Organic Valentine Cookie Assortment and a Chocolate Nut Gift Box, featuring California almonds and Oregon hazelnuts, you'll find just the right gift at Eco Express for that special someone. Choose from hundreds of gift ideas at www.ecoexpress.com.
Nearly everyone has someone special (partner, family member, friend or colleague) they can treat. Follow one of these suggestions or use your imagination … and go green for Valentine's Day!
Next Up: No Junk Mail
Once the present are bought and all is order, you may find yourself at your mailbox picking up the day's mail. Now is the time to: Reduce Junk Mail.
If you're among the millions of Americans concerned with identity theft, one of the best strategies is to decrease your junk mail. By resolving to cut junk mail in 2008, you'll save trees, water, habitat loss and animal/plant species extinction. In 2005, more than 114 billion pieces of bulk mail advertising were mailed in the U.S. (up 15 percent from 2000). That's 62 million trees and 28 billion gallons of water used to produce U.S. mail for just one year!
Habitat loss and species extinction — how does this relate to junk mail? According to the Union of Concerned Scientists, 55 percent of all paper fibers come from trees and 17 percent is from old-growth forests. Some 23 million acres of forest area were lost worldwide between 1990 and 2000. Habitat loss is a key cause of animal and plant extinction. Using 1995 figures, the percent of wildlife groups threatened with extinction are: birds –11 percent, reptiles — 20 percent, mammals – 25 percent, amphibians — 25 percent, fish — 34 percent, and vascular plants — 12.5 percent.
If you think recycling junk mail is enough, here's another statistic to consider: 50 percent of all U.S. mail is discarded unopened. Recycling is great, but it won't bring back an extinct species. Take these actions to reduce junk mail by toll-free call, mail or online.
Register with the Direct Marketing Association at www.dmaconsumers.org/cgi/offmailing for name removal. If you don't have access to the web, the address is: Mail Preference Service, P.O. Box 282, Carmel, NY 10512. Send a $1 check or money order, payable to DMA (no cash please). The "do-not-mail" file is updated monthly and distributed quarterly (January, April, July, and October).
Your name remains on MPS for five years, after which time you may register again. The amount of mail you receive will begin to decrease about three months after your name is entered onto the quarterly file (a little longer if you use the mail-in option).
Consumers can take a further step and opt out of direct mail credit card and insurance offers by calling 888-5-OPT-OUT (888-567-8688) or by visiting www.optoutprescreen.com. If you choose to Opt-Out, you will no longer be included in firm offer lists provided by these consumer credit reporting companies: Equifax, Experian, Innovis, and TransUnion.
Valassis (formerly ADVO, whose ShopWise mailer shows missing children pictures, has an online form you can complete to be removed from their list for a five-year period. Visit their website:www.advo.com/consumersupport.html .
Right about now you might be thinking, "Whoa, I don't have time to fill out all of these forms or make phone calls. I'm too busy." Well, with American can-do spirit some online businesses have been formed to handle this task for you for a fee.
One such enterprise is www.greendimes.com, which offers two service levels. The first, which for $3 a month (a dime a day — hence the company name), will keep you off junk mail lists while planting one tree every month for each of its members. You can pay a $36 one-time fee for 12 months of service.
Another venture is called www.41pounds.org with the name derived from the average amount of junk mail a person receives each year. A $41 one-time fee covers your entire household for five years. More than one-third of the profits from each sale go to environmental organizations, local schools and youth groups.
Regardless of the service you choose, it could take three or four months to notice a reduction in unwanted mail. These solutions do require some effort and/or financial investment on your part, though it's time and money well spent. During 2008 your mailbox will be emptier and you'll help save the planet.
Contact the Eco Gal at ecogal247@yahoo.com with questions or comments.