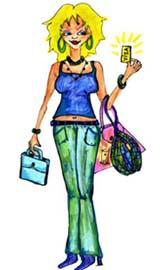 Holiday shopping is officially upon us. So, think of it as "tis the season to be green and give gifts that use fair trade sources and/or recycled materials."
You can give stunning designs by Moonrise Jewelry (moonrisejewelry.com). The designers use only fair trade and ethical source vendors for their raw materials (metals and gemstones). You'll also find recycled, reclaimed and renewable natural materials in their Premier Eco-Jewelry Collection. The collection's necklaces, bracelets and earrings are sold with free priority shipping.
For the man or woman on your gift list who prefers basic black accessories, give a vegan wallet from Used Rubber USA (usedrubberusa.com). Made from reused truck inner tube and stitched with heavy-duty industrial thread, these wallets can even withstand an accidental run through the washing machine. Available in both standard and billfold styles with windows and pockets, the wallets are waterproof and sleek looking.
If you prefer to give home decor items, the handmade sustainable products crafted by Enlighten Style (enlightenstyle.com) offer dozens of unique options. Bamboo lamps are available in hanging, table and floor styles and compact fluorescent bulbs (CFL) are recommended. Reclaimed wood gets a second life as picture frames, which are available in standard sizes such as 3×5, 4×6, and 8×10.
What child can resist a teddy bear? Wildlife Works (wildlifeworks.com) sells an eco-friendly one named Mikey. This adorable bear is handmade from organic cotton terry and is stuffed with scraps of organic cotton from the company's Eco-Factory in Kenya. The ear and footpads are made of tree bark cloth. Wildlife Works sells clothing for men, women and children and home furnishings, such as wildlife prints.
You can give this Eco Gal's personal favorite, a canvas bag to use for grocery shopping and trips to the Farmers' Market. Plus, some natural food markets give a nickel or dime rebate for each bag used. By saying "no" to paper or plastic grocery bags, there is less demand for fossil fuels or virgin paper and what could be greener than that?
More shopping ideas include instead of giving the friend, co-worker or loved one who has everything, is to make a donation to the person's favorite charity in honor of them instead of buying a gift only to go unused. Most nonprofit organizations will send an acknowledgment letter or card to the person honored and note who made the donation.
(What makes this idea green? Because a telephone or the Internet was used for the transactions, which means no petroleum products were used to travel back and forth to a Post Office or shopping center. Less CO2 in the atmosphere is good for the earth!)
Two words for the chocolate lovers on your list: "buy organic!" Cocoa beans used for organic chocolate are grown under the shade of indigenous rainforest trees. Look for "fair trade" on the label to choose companies that buy cocoa directly from growers who are paid a higher price than suppliers of conventional cocoa. This improves the growers' quality of life and provides a better education for their families and community. Shop locally for organic chocolate at health food stores and other sellers of fair trade food products.
While you're at it with the green shopping, why not think green for the entire holiday season? One of the easiest things you can do to make the holiday season greener is to forego mailing greeting cards and send holiday emails instead. If many on your list don't have email and you wish to send a traditional holiday card, look for one printed on recycled paper using soy-based ink (which is made from soybeans, making the recycling easier and the printing waste less hazardous).
Another idea to save both energy and money is to use Light Emitting Diode (LED) holiday lights. These energy-efficient lights use only 0.08 watts per LED C7 multicolor bulb, compared to 0.48 watts for an incandescent mini-light and the LED lights can last up to 100,000 hours or more when used indoors or 50,000 hours for outdoors. These lights are safer because there's no chance of combustion with bulbs that are cool to the touch no matter how long they are left on.
Plus, there's no need to worry about broken bulbs because the epoxy lenses of LED lights are virtually indestructible.
And, of course, you can't buy green and not wrap your gifts with paper made from recycled paper. Local retailers may carry rolls of recycled wrapping paper — ask the manager. Get creative and use plain brown paper adorned with colorful stickers or have your children draw holiday designs.
Reusable cloth bags are gaining popularity as wrapping for gifts. Peaceful Valley Earth Friendly Clothing & Gifts (peacefulvalleygreetings.com) sells an assortment of hemp, banana leaf, kenaf and other tree-free papers. All gift-wrap designs are printed with vegetable-based inks on recycled paper. Peaceful Valley also has a selection of 2008 calendars printed on 100 percent post-consumer recycled paper.
These are just a few of the thousands of options available for shoppers who want their gifts to be sustainable. Look for more holiday gift ideas next month … in the meantime, happy green shopping!
Contact Eco Gal with questions or comments at ecogal247@yahoo.com