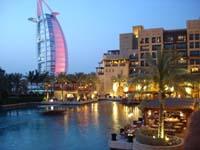 Swaying palm trees, big Mercedes-Benzs, and hot, hot oil — welcome to the Persian Gulf. But this isn't your camel-ridin' kind of "old" Persian Gulf. Oh no. Here you can snow ski when it's boiling outside, you can own and live on "Japan," "Uzbekistan," or even the state of "Kentucky" on the amazing "The World" island development. And you soon can peer out of the top of the world's tallest building.
Dubai is super hot and very dusty. The combination of the hot sun, dry desert air and constant construction give the place an overall "white-out" look. You can tell the sky is blue somewhere straight up, but anywhere near the horizon it just looks like a gray, hot haze.
This city has become one of the world's fastest growing during the last thirty years. In fact, it has tripled in time since then. Since the discovery of oil here in 1966, the city took off on one of the fastest growing spurts in history. Its oil reserves are actually quite modest, but this ground breaking, industrious city used the quick oil wealth as a springboard to create a market for tourism, real estate, trade and manufacturing.
Its over-the-top style, "in your face" wealth and larger-than-life playground for the rich puts it in a class of its own. Five-Star beach resort hotels, year round sunshine and dozens of modern, humongous, open-'til-midnight shopping malls keep the tourists coming. Also, the incentive packages for employees — including free homes and cars, plus NO taxation, and, of course, rock bottom gas prices — keep the people moving in.
This completely new urban landscape virtually rises out of the dry desert with what appears to be hundreds of skyscrapers and literally dozens upon dozens still currently under construction. It is claimed that right now Dubai is home to one quarter of the world's building cranes. This modern city is home to the world's tallest hotel, the iconic sail-shaped Burj Al Arab (Arabian Tower), the self-proclaimed world's only 7-Star hotel. It has become the symbol of the city. The one-thousand-foot-tall hotel (taller than the Eifel Tower) has become the symbol of the city and sits on a manmade island just off the main beach strip of Jumeirah.
The all-suite hotel has 202 duplex suites starting at nearly $2000 a night, each with floor to ceiling windows giving you a breathtaking view of the city and sea. And remember, if you want to see these views, even from the hotel's restaurants or bars, you must make a reservation. A "nonguest" cannot enter the hotel without a dinner or bar reservation — and those need to be made weeks in advance, of course. The dress code means no blue jeans.
Another superlative in the dreamland of Dubai — the new "Burj Dubai" (Dubai Tower) going up right now. When it's complete, it will be the world's tallest building. And in it? The first ever Armani Hotel.
At 160 stories, this modern, sleek needle tower will be twice the height of New York's Empire State building. It is hard to miss it towering over the already tall wildly-designed towers on all sides of Sheikh Zayed Road … and it's only half built. And, of course, it will have the world's fastest elevators rocketing up to the observatory decks at 40 mph.
Also coming soon to Dubai: the first-ever underwater hotel. Hydropolis will be a complete "submarine" getaway for you to lay your head … or drown while sleeping if there are ever any major leaks. Sweet dreams under the sea.
You may have already heard of these man-made island developments happening just off the shores of Dubai — The Palms and The World. "The Palms" are three manmade islands groups resembling palm trees. And "The World" is exactly just that — a group of man-made islands completely representing the globe. You can buy the "country" of your choice. Prices for the islands range from $15 million to $45 million. In fact, there are rumors that British celebrities Rod Stewart and David Beckham have bought into this project, but neither of these has been confirmed. Becks already owns a villa on the nearby Palm Jumeirah development. And just recently, rocker Tommy Lee announced he was buying the Greece Island for ex-wife Pamela Anderson. All these crazy dreamlands are made of sand dredged from the ocean floor.
It seems here in Dubai that neither the sky nor the sea is the "limit." When it is 100 degrees outside and you want to cool off? Pop over to "Ski Dubai" the huge indoor ski resort at the Mall of the Emirates. Leave it to Dubai to build a ski resort in the desert. (Wouldn't this be great in Vegas about now?)
It's hard to miss all the consumerism going on. Abaya-cloaked women stroll up and down the mall corridors with bags from DKNY and Tiffany. Sitting in Dubai traffic (urban planning seems to be an afterthought in "the world's tallest this" and "the world's biggest that" city) it's hard to miss the huge Hummers lumbering past. As a wealthy nation, the UAE enjoys some great benefits — free healthcare, free education, and even a marriage fund.
Overall, the city is more expensive than many other global cities and seems to be on par with prices in many big American cities. A stay in one of the resorts can set you back at least a couple hundred a night. But, budget lodging is pretty tough to find, and without any real efficient public transportation (a Metro rail is currently under construction, like everything else), taxi cabs add up when you have to ride all the way across the spread-out town just for dinner. It cost $5 for a small bottle of water at The One&Only Mirage Resort where a day was spent the day lounging at the amazing pool and fabulously landscaped and lighted grounds. (And 1.5 liter bottle of water at the Deira neighborhood grocery was about 25 cents.)
The big kicker? One amazing incentive to living here is there are virtually no taxes whatsoever — no income tax, no sales tax, no capital gains tax and no property tax. This makes living in this desert oasis a much more viable option.
Of the 1.4 million people in Dubai, only 10 percent are Emirates. The other 90 percent are actually expatriates — Indians, Pakistanis, Bangladeshis, Lebanese, British, and other Europeans — who make up a good part of the workforce. And many of these are here working in construction.
Knowing Dubai:
Religion:
Islam is the official religion of Dubai and the United Arab Emirates. NonMuslims are not allowed into most mosques. Some stores display signs of copies of the Quran with a big sign saying "NonMuslims are not allowed to handle the Quran." Muslims pray five times a day: at dawn, around noon, when the sun is in the position that makes the shadow of an object equal to the length of the object, at the start of sunset, and, finally, at twilight, when the last drop of sun disappears over the horizon. And Muslims don't need to be in a mosque to pray, they just need to face Mecca, so they will just stop whatever they are doing, wherever they are and pray. All public buildings — airports, libraries, shopping malls — have prayer rooms.
Alcohol:
In Islam, it is forbidden to eat pork and drink alcohol, therefore it is only sold at hotel restaurants. No other restaurants serve any alcohol whatsoever. You cannot purchase alcohol from any store or supermarket unless you have an official "alcohol license." Only nonMuslims can be issued this license by the police department. For a tourist, this makes vacationing here even more expensive — when you want a drink you have to go to an expensive hotel bar or restaurant because there is no such thing as a "cheap beer." In line with this, any kind of drunk driving is forbidden — it is completely a zero tolerance policy — you are not allowed to drive with ANY quantity of alcohol in your system. If you drink and drive and are caught you will go to jail.
Mail:
There is still no direct service mail delivery as of yet in Dubai (read — no mailmen). All residents must have their mail delivered to a Post Office Box.
Government (see also Religion):
In each Emirate (state) of the UAE, the power rests firmly in the hands of a ruling Muslim tribe. In Dubai the Maktoom family is in charge. There are no political parties or elections.