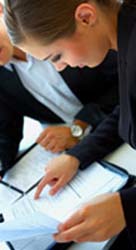 The life of a savvy gal involves many things … going out with friends, professional and family obligations, travel and shopping, but not contemplating the division and distribution of your estate on your ultimate demise. How depressing! Why should vibrant women beginning a new career or starting a family ever need to think about a will? So morose! But, yet, it is important.
Sitting down, with an attorney's help, to write out an estate plan has little to do with death and everything to do with organizing and creating a structure for a lifetime of financial dealings.
What used to be thought of as just writing a Will, now encompasses a broader range of issues, which involve estate taxes, business ownership issues, property rights, health care issues and the guardianship of minors. Today's "estate plan" is definitely not your grandpa's will.
You should be able to answer the following questions when you begin to talk to a lawyer about your estate plan:
Who are the beneficiaries of your old 401k plans that you never rolled over into an IRA?
Do you and a partner have a business? Have you thought about what might happen if one of you retired, passed on or just wanted to leave the business?
Do you have some of your grandmother's jewelry that she made you swear would always stay in the family?
How did you specify the title to the house you just bought with your partner, friend or boyfriend? What happens to it if you split, one of you moves to Uruguay or simply stops paying their half of the mortgage?
Did you or your spouse own a house before marriage and haven't yet changed the title?
Few of these scenarios involve death — but all hold significant legal consequences for women if not addressed. Spending a little time and money to deal with these issues now will save you lots of time and money in the future.
For instance, say you bought a house with your boyfriend or friend and you decide to split up. Does one of you want to stay in the house? How much money did each of you put into the house? Was it equal? Laws in most states protect and even regulate the division of property for spouses if there is a divorce or a death, but in most cases unmarried partners don't have the same protections. In the absence of laws governing the division of property, unmarried partners can make a contract spelling out what would happen in the case of a split.
And, even if you are in the midst of planning a wedding, some planning now can help to protect your assets for the future. You may deeply trust your betrothed, but if you have started your own business or inherited money before marriage you wouldn't want to see it cut down the middle should the matrimony go south. A pre-nup and a little estate planning could preserve all of your hard work or family assets.
It's never too early to start organizing your estate. Doing an estate plan in your 30s or 40s will make you more savvy in business and personal relationships, reminding you time and again when to memorialize money issues in writing. A little organization of your estate now will solve a lot of issues before they become problems in the future, and will allow you to continue on in the successful and savvy manner to which you have become accustomed.
Keller Smith is an attorney with The Keller Law Firm in Manhattan Beach, California; she can be reached atwww.kellerlawfirm.com. She will be contributing a column once per month.