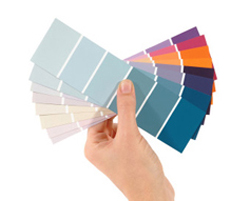 What does the career of an interior designer entail? Hanging a picture here, moving a couch there … it's decorating and it's easy, right? Not necessarily so. There's a difference when it comes to designing a room.
"A decorator picks table settings, lamps — but is not a designer," Leslie Kushner, IIDA, a designer in Southern California, and past president of International Society of Interior Designers, said.
Helen Babilla, ASID, of Babilla Designs in Chicago agreed, "Anyone can hang a picture or move a couch, but a designer knows why. They understand balance, harmony and function of putting pieces together."
Interior designing is a career that combines creativity and style with knowledge of technical information to achieve an interior environment. They must comply with code and regulatory requirements along with picking out pretty furniture. "A certified designer can read blueprints, review building codes and pick the best of furniture, tile and fabrics," Darla Blake, CID and ASID, of Unique and Chic in Studio City, California said.
A designer understands spatial concepts and can work on a project from the ground up with an architect to design and space plan rooms. This means that a room, from a design standpoint, can be much more aesthetically pleasing and practical.
"Maybe an entrance to the closet can be moved by just a few feet, or inches, and then the dresser that you want [to purchase] or already own will fit into the room. But if the entrance is off by just a couple of inches, it throws everything off," Kushner said. "Or maybe an entrance to the room can be moved to provide the use of an entire wall. A designer can review architectural plans in terms of layout and placement."
Designers spend much time earning certification to learn the technical knowledge necessary. Professional certification includes different requirements of experience, number of years in the field and two-day exams on spatial planning, among other concepts. CID is a Certified Interior Designer, which expands on the understanding of building codes, permit plans, and must be renewed every two years. Those that are ASID certified are part of the largest and most prestigious national society of designers who have passed rigorous examinations about designing. And IIDA is certification via the International Interior Design Association, an international organization of designers, with qualifying tests, as well. Many designers have combinations of the certifications.
(Kushner shared a humorous story of one designer who used PID after his name. When he was questioned further, the PID was discovered to be "professional interior designer" — a made-up certification because the designer thought he, too, should have initials after his name!)
Designers specialize in residential space, commercial locations, restaurants and more. Yet, they all seem to need the knowledge necessary to provide well-designed rooms. The National Council for Interior Design Qualification, on their Web site, lists some of the primary responsibilities of an interior designer as the following:
Researching and analyzing the client's goals.
Formulation of preliminary space plans, and two and three dimensional design concepts based on the principles of interior design and theories of human behavior.
Administration of contract documents, bids, negotiations on client's behalf.
Ensuring that space and design concepts are safe and functional, while being aesthetically pleasing, and meet all code guidelines.
Selection of colors, textures, materials, furniture, equipment etc.
Preparation of budgets and schedules for the project.
Collaborating and working with other professionals on the project: architects, engineers, consultants, etc.
Satisfying the client's needs and wishes producing a desired interior space.
Hiring a designer is like hiring a financial planner, Babilla said. "You wouldn't plan your future without a financial planner; you want their expertise and education … same with a designer and relying on the right person to help."
An interior designer works to help others avoid costly mistakes. "Without a designer, there are common mistakes that people make." Kushner said. For example, purchasing furniture without a plan. "Be sure to decide how the room will be arranged before you buy. That bargain sale may be the most expensive piece you've ever bought if it doesn't fit."
A designer will also guide in the use of trendy color (that you may be sorry about within just a few months) versus classic neutral colors that can be highlighted with color as an accessory. "Even neutrals have their trends, beige in/gray out … a designer guides to what is best for the room," Kushner said.
She also stressed paint colors and the help a designer provides with that aspect of putting the room together. Designers have access to much bigger paint chips (than the average person) to hang on the wall to see how the color looks in the light of day, night, sun or storm. "Paint colors come in lots of different shades. I understand at least sixteen thousand variations of color are discerned by the human eye," Kushner said.
Blake said that many people may love a swatch of fabric, but they don't have the eye to know that while it is beautiful at six inches, once it is stretched out to four feet on a couch, the pattern looks "atrocious" — and ruins the whole look of the room. "Hiring a professional designer is something you can't afford not to do. A designer does it right the first time."
Babilla talked about how the designer works to put all these colors together. "Perhaps you loved a sofa but once you get it home it doesn't look good against the color of the wall, it's off by just a bit, but enough that it doesn't look good. It's a designer's job to prevent that from happening."
And what is the affordability factor of hiring a designer? Many designers set up their own methods — yet there are some basic rules of thumb. A fee (whether hourly or project as a whole) for design services and a cost-plus-markup on items purchased. If a mirror is one hundred dollars, she may get a forty percent discount, mark it up, and charge the client $80. (Asking a designer for their specific discounts is acceptable — and ask if discounts exist for prepaying or if the designer has recently purchased anything in bulk. The bulk may have been purchased for another job, have leftovers, and you love the choice just as much as your original choice that costs a great deal more.)
A designer should be prepared to be interviewed by potential clients. And while doing so, should be more than happy to show off their work. Clients should ask to see work the designer has completed within the last three to six months. "And [they should] go to the homes, feel the warmth of the room in person, it looks and feels different than in a picture," Blake said. (She said she often tells people to ask their potential designer a silly question on purpose to see a reaction. If a designer is condescending, it isn't the person to work with on your project.)
While designers are entitled to charge for the initial consultation many decline to do so. "It's an interview," Kushner said. "It's a time to see if we both feel comfortable with each other. And then there's no obligation."
A designer gives their client a letter of agreement and goes through the steps that will be covered in designing the room(s). They often provide a billing invoice every two weeks to allow the client to keep tabs on their budget. "People should always be aware of how much they're spending," Babilla said.
Blake, who during the last eleven months completed a fifteen-thousand-square-foot home, with seven bathrooms, said to be honest with the designer about your budget. "One of the biggest things I find is that people think the budget should be the best kept secret. Perhaps because they think the designer will spend it all if she knows she has it — but a good designer won't spend more than she has to."
All of the designers interviewed about what the career of interior designer entailed, talked about the respect of the intimacy level between the family and the professional; it is very high on the scale. A designer will ask and need to know about much of the client's life — from underwear drawers to bathrooms, all bases are covered.
"You have to ask and know, 'Are the kids allowed on the furniture? Is the dog? How do you live your life? Do you sleep in the same bed? Do you stand at the sink and eat?'" said Blake. "But that's part of what I love, is at the end, feeling like part of the family."
So yes, the interior designer must possess creative knowledge (good taste), technical knowledge (everything from space planning to which lighting fixture provides the right type of light), organization and project management skills (keeping the project running smoothly), budget skills (as in staying within the client's requested financial needs), people skills (working with all of the other professionals on the project), to name just a few. It isn't just about hanging pictures and moving couches.
"Most people want their own sense of style reflected in their environment," Kushner said. "A good designer works like a chameleon, showing the person's style, but with the expertise of a professional."
Babilla agreed. "It isn't about us. It involves learning so much about the person for whom you are designing the room. It's a fun, challenging and so rewarding when at the end of the project, people love their space."
Various programs around the country provide the necessary training should this be a career you are interested in pursuing. Visit: www.asid.org, www.ncidq.org and www.iida.org for more information.
*Starting in April, designer Helen Babilla will offer tips about interior design and answer any questions about your rooms in the new Savvy Smarts section. Please feel free to send in questions (which may be edited for length and grammar) about your space to . See you in the designing room!