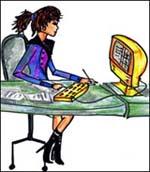 A young soldier transitioning out of the Army spots a job perfect for her. She meets the qualifications perfectly, is willing to relocate, and even has a recommendation from a manager employed by the same company. After polishing up her resume, she mails it off to the hiring manager.
Unfortunately, there is a chance her resume will get no more than a perfunctory glance from the hiring manager, if it even reaches him. Why? Because she failed to submit a cover letter with her resume.
When it comes to searching for employment, many of us forget the cover letter is an important part of the job-hunting process. In most cases, a cover letter is not an optional addendum to a resume, but a crucial piece to let the potential employer know you are the right person for the job. Much like your resume, a cover letter is a marketing tool. It should introduce the main points of your resume, "sell" your qualities to the employer, and fill in any blanks, like a gap in work history or a change of profession. Keep in mind, however, the cover letter is meant to explain and support your resume. It shouldn't follow your resume word for word, and the details in both should be consistent.
Now you know the "why," so, let's talk about the "how."
1) Address the letter to a specific name or title. Potential employers want to see you've done some research about their company. Not knowing the name of the hiring manager blows an opportunity to show you've looked into the company you want to work for. If you're unsure of the name or title, call the company and ask. Be sure to get the correct spelling.
2) The writing style should be direct, powerful and error free. Use action words to describe not only what you did at previous jobs, but how your work improved the organization. Keep it short and to the point.
3) Write each letter separately. Don't send a form letter. Tailor each letter to meet the requirements of each company you are applying to. In order to avoid confusion and sending the wrong letter to the wrong company, save separate letters to send to each company.
4) Express confidence without exaggerating. This is the time to talk up your accomplishments. Don't worry about the appearance of bragging; if you don't do it, who will? However, don't overstate your qualifications or past work experience.
5) Use appropriate language. Don't use slang, shorthand or jargon unfamiliar to the reader.
6) Be positive. The cover letter isn't the time to badmouth your former employer or career choice. Keep an upbeat tone to your letter and focus on how you're qualities and skills will benefit the potential employer.
7) Keep copies of everything you send. Some companies request numerous copies of documents like your resume and cover letter. One caveat: if you make a last minute change to your letter right before sending it out, remember to save it in case you need to provide an exact copy of the original letter.
8) Mention relevant activities, honors and skills. Although you may be proud of your underwater basket weaving skills, or your Hackey-sack Player of the Year Award, leave it out, unless it's relevant to the job for which you're applying,
9) Finish your letter with a strong closing. The best closing will take some kind of action. Suggest a meeting or tell them to expect your call — and follow through!
10) Check and recheck the final product. After you've finished writing your cover letter, proofread it and ask a friend to proofread it for you. Having a set of impartial "eyes" look over your letter can catch mistakes you may have missed. A friend can also tell you if everything makes sense.
Even if you follow all the steps, there are some things you should not do in a cover letter. What makes a bad letter?
It's poorly written, with weak sentence structure and poor grammar.
It contains misspelled words or typographical errors.
It's boring to read.
It contains sexist, condescending or discriminatory statements.
It fails to address the reader personally or focus on his or her needs.
Again, this is where having a friend or other impartial reader look over your letter for you.
Remember, your cover letter should elaborate on the information in your resume, provide evidence of your qualifications and should be thoroughly proofread for errors. If you're unsure whether you should send a cover letter along with your resume, go for it. In the eyes of a potential employer, going the extra mile can only work in your favor.