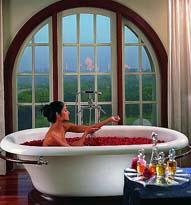 You'd be hard pressed to find a setting more appropriate for lavish pampering than the ancient land of India. There's enough geographical diversity here to give rise to countless resort themes and the heritage of the country is filled with enough drama, grandeur and regality to fill a hundred Bollywood movies.
And then there's the little matter of lifestyle. The concept of being pampered in the Indian context goes back centuries. Natural and herbal remedies for health and beauty are a common feature of the Indian way of life and nourishing wellness practices are passed down from generation to generation.
An Indian wedding will almost always consist of large spells of preparation, which easily can become several days of exfoliating and massaging the bride with time-proven herbs. New mothers are pampered with oil massages to soothe aches, and herbal scrubs and warm baths to restore the skins elasticity during the "confinement" period post delivery. This practice of nurturing and replenishing through massage starts in the wee days of babyhood with oil massages for new born babies an integral feature of the mother child bonding experience.
With traditions like still these alive and kicking, it's not surprising that the country has emerged as a hot spa destination. The luxury spa experience worldwide demands ambience and backdrop, and India does not disappoint. Head off to the Himalayas for mustard oil massages in the confines of an 18th century royal residence, or luxuriate in a rose petal, milk and saffron bath while gazing out at spectacular views of the Taj.
A common thread running through India's best known spa destinations is Ayurveda, the 5000-year-old science originally practiced by sages in rustic ashrams, and today continued across the dozens of luxurious spas dotting the country. With more Europeans and Americans being exposed to the benefits of this age-old science, Ayurvedic therapies have begun to make more than a guest appearance at Western "clinics." But having a "third eye" hot oil treatment in New York or Los Angeles is to settle for what's at best a watered down version of the real deal. For the authentic experience, head to the land of its birth, where therapies almost always involve the use of local ingredients, and skilled native practitioners, for many of whom the practice of this science is a family tradition.
Here's a selection of the five finest spas in India. Indian spas are by no means solely Ayurvedic, and you'll find wellness centers that offer contemporary treatments alongside those based on herbal medicine. The following make the cut not only for the pampering experiences they offer but also the incredible ambience, fit for a Maharani!
Whether you're a jaded Hollywood star or just a regular Jill looking to calm frayed nerves, Ananda in the Himalayas is your introduction to wellness hospitality Indian style. And what an introduction it is! The location is a gift from the gods, in the foothills of the Himalayas, the place where Ayurveda was born, extensive yoga programs are taught by learned gurus of the art, and an a la carte menu of exfoliations, body wraps, hydrotherapies make use of natural Himalaya spring water, and Ayurvedic massages are designed to detoxify, cleanse, and shed pounds.
A short drive from Udaipur in Rajasthan, the Land of Kings, is the Devi Garh Resort, a luxury haven fashioned out of an 18th century fortress. Tucked away among the royal suites and banquet halls is the hotel's spa. Don't be fooled by the contemporary whites and ultra sleek design of the suites – guests can look forward to meditation classes and Yoga sessions on the ramparts of the fortress.
What could be more spiritually uplifting than a glimpse of the world's greatest monument to love as you gaze out of your luxury spa suite during a warm fragrant soak? At the spa at the Oberoi Amarvilas in Agra, guests can look forward to magnificent views of the Taj in all its resplendent glory, in a luxury spa ambience hard to match. The crowning glory at this resort is the Noor-e-Taj, a three-hour extravaganza where you'll be scrubbed in almonds and wrapped in honey to end the decadent experience with a grand finale – a long bath in lavender milk. All food for the body and soul. The magnificent Mughal architecture and fabulous interiors don't hurt either.
For a break from overwhelming Indian exotica head to the colonial inspired Oberoi Spa at Wildflower Hall in Shimla, once the winter playground of the British. Like other spas on this list, this one boasts of spectacular surroundings, cocooned as it is amidst lush groves of cedar and pine trees with breathtaking vistas of the Himalayas. A range of Western and Indian therapies are on offer, and treatments not surprisingly draw from the essences of lavender, geranium and jasmine.
Ayurvedic therapies don't come more authentic than in Kerala at the southern most tip of the country, or so diehard practitioners of the art claim. Check into Divya, (meaning light) at the Leela Kempinsnki Kovalam Beach in Kerala. There are traditional panchakarma therapies here, as well as mod massage treatments. Facilities include a full-time Ayurvedic doctor who will diagnose your ailments and prescribe a course of treatment for you that can run from anywhere between one day to 28. Conditions able to be treated run the gamut from diabetes and allergies to gynecological problems.
This list is by no means exhaustive. Whether you're vacationing among the sand dunes of Rajasthan or doing business in Bangalore, have an hour to kill or need a week of R & R, you'll find a spa nearby offering indigenous treatments and holistic therapies designed to meet your needs.