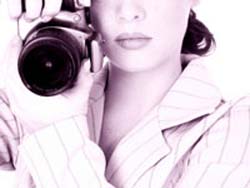 Often people simply pick up a camera and take a snap, see the result and think, "Hey that was easy and fun, I think I'd like to do this for a living."
Most realize quickly it is much harder than it seems; however, some do find success.
Photography is a competitive market, and the work is often attractive. But a successful photographer must have "a good eye," imagination and some creativity to do well in the field. But, that's not all. Photographers should love going into their own business.
Accordingly, they must be able to maintain a business and take advantage of opportunities provided by rapidly changing technologies. While seeking career information about photography you should first speak to one of your local photographers for information. You can ask questions about the job market in your area and how much training was involved before he/she considered him/herself ready. You'll find your local photographer will offer insight that will be quite helpful.
You need to assess your goals and ask yourself, "What as a photographer do I plan on achieving?" Most would agree that the photographer is an artist, historian and news event person. A photographer produces and preserves images that paint a picture, tell a story or record an event. The successful photographer is required to have the ability to present a subject to achieve a particular effect while also selecting the appropriate equipment. A good photographer should enhance the subject's appearance with natural or artificial light, shoot the subject from an interesting angle, draw attention to a particular aspect of the subject by blurring the background, or perhaps using different lenses to produce desired levels of detail at various distances.
But, information about the career varies according to what type of photography interests you. There's underwater photography (which is becoming an exciting field of unexplored areas), portrait, commercial and industrial, scientific, news and fine arts photography.
Let's take a look at a few …
Portrait Photographers: These are the people we see most often photograph those special family events. They usually take individual pictures, group pictures and most likely work in their own studios. A lot of photographers specialize in taking wedding pictures, religious ceremonies or school pictures.
Commercial and Industrial: Subjects of photos include various subjects, such as buildings, models, merchandise, artifacts, landscapes, machinery, products, workers and company officials. This is a specialized field wherein a lot of money can be made. The pictures are used in a variety of media, including books, reports, advertisements and catalogs. The industrial photographer is usually hired in advance for a specific assignment. These pictures help engineers' analysis projects, publicity, or records of equipment development or deployment, such as placement of an offshore oilrig.
Science Field: A photographer records scientific data and procedures. Many things evolve when working in the scientific field, and one must have knowledge in one or more areas of engineering, medicine, biology or chemistry.
Photojournalism: Photojournalists take pictures of newsworthy people, places and sporting events. They often cover political and community events for newspapers, journals, magazines or television.
Another important aspect of a photography career is the understanding of working conditions. These vary considerably from one type of a job to another. For instance, photographers who work for the government and advertising studios usually work a 5-day, 40-hour week. News photographers often work long, irregular hours and must be available on short notice. Some photographers work part time or on variable schedules.
And photographers actually only spend a small amount of time taking pictures, because much time is spent editing photographs (on a computer) and trying to find new business, especially when they are self-employed.
Should you find that this is a career for you to pursue, the rewards can be fulfilling, and, not to mention, fun.
Roy Barker often writes and works closely with Start A Photography Business, which is dedicated to those interested in starting a photography business. Additional free guides and tips can be found at www.photography-business-tips.com.